If you're looking to refresh your beauty routine, these top French luxury beauty brands will help you accomplish that. Why not take a little inspiration from France, where women are known for their natural approach to premium and high-end beauty?
These brands are known for using high-quality ingredients to create some of the world's best-selling French makeup and skincare products. People come from around the world to shop from these high-end French beauty brands – that's how renowned they are!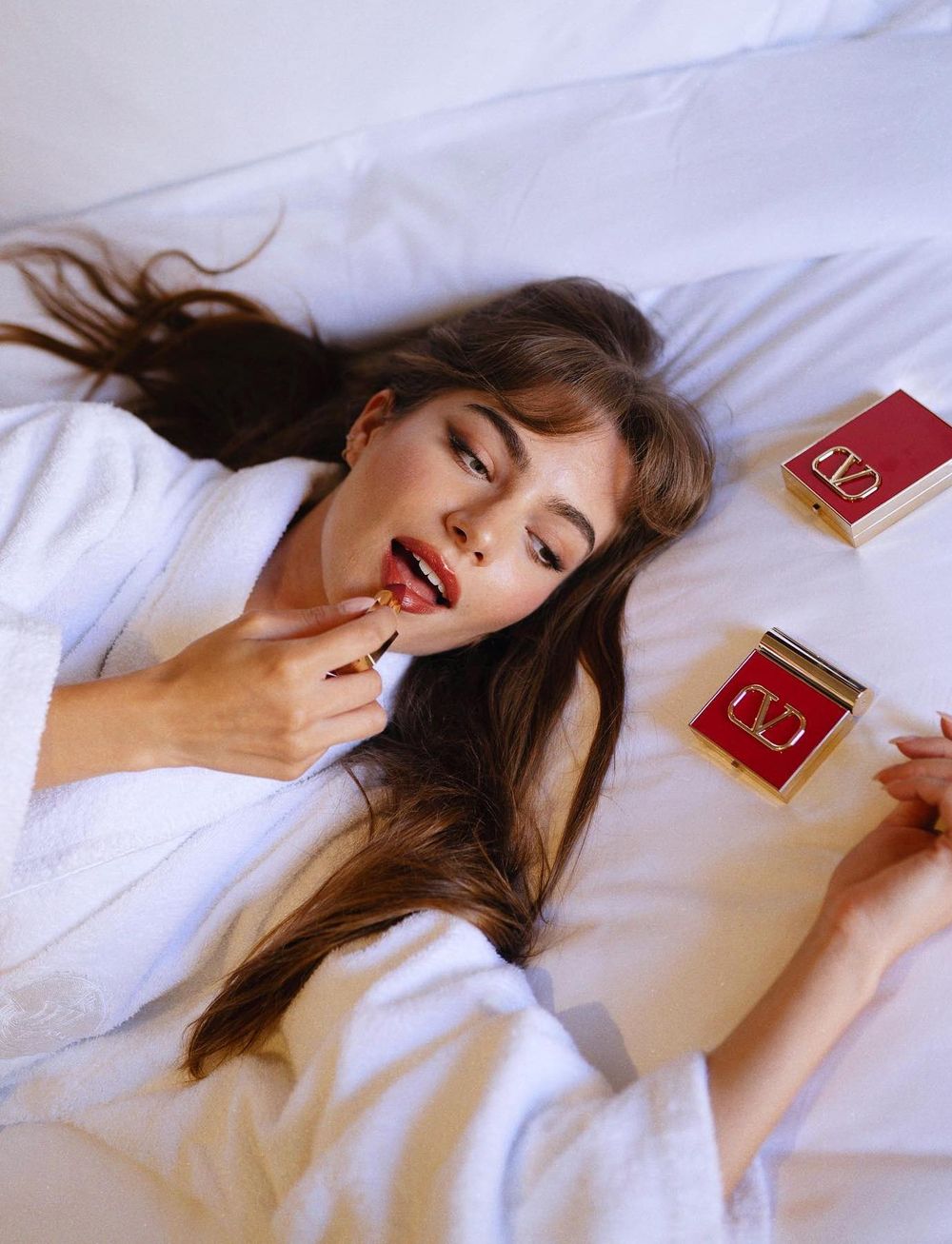 Let's go over some of the best luxury beauty brands from France, a little history behind them, as well as the top-selling products you must know about. These time-tested beauty brands from France range in price but all provide the high-quality French skincare you need.
France is best known for its luxury beauty brands which provide the world's best beauty products. Here are the top high-end beauty companies to know in France.
Lancôme
Lancôme is one of the world's top-selling luxury French beauty brands. Based in France, Lancôme originally began as a fragrance house in 1935. Its profile grew over the years, and now Lancôme has an extensive international distribution of its makeup, skincare, and beauty products. L'Oréal is the parent company of Lancôme.
Best-selling luxury Lancôme skincare products include the anti-aging Advanced Génifique Youth Activating Concentrate Serum and Tonique Confort Hydrating Toner.
For makeup, Lancôme beauty lovers keep coming back to the volumizing Lash Idôle Mascara and Teint Idole Ultra Wear Foundation.
Lastly, we cannot forget about the Julia Roberts-endorsed, international best-selling La Vie Est Belle perfume.
Check out the best Lancôme products for more recommendations by this brand.
Clarins
Clarins is another heritage French beauty brand for luxury beauty solutions. Founded in 1954 by Frenchman Jacques Courtin, Clarins operates and distributes its high-end beauty products to over 150 countries. Clarins is based in Neuilly-sur-Seine and is beloved by Parisians who have learned of the brand's wonders from their grandmothers. In 1962, the brand launched one of the first French contouring creams, formulated to shape the body and eliminate cellulite.
Clarins products are carefully designed and formulated in one of the best dermatology laboratories in France. Clarins' best-selling products are its Double Serum and the Extra-Firming Energy Day Cream, both geared towards anti-aging skincare.
Guerlain
Guerlain is an established giant in the French luxury beauty industry. Guerlain started by making fragrances for royalty, mastering the art of perfume making since the 19th century, and they have a prestigious reputation in France. Guerlain scents were beloved among French royalty and today they serve the Parisian elite, with loyal fans who buy their luxury skincare.
Guerlain's best-selling products include the Abeille Royale Advanced Youth Watery Oil for smooth and healthy skin and the Terracotta Sunkissed Natural Bronzer Powder for giving your face a sun-kissed glow.
YSL Beauty
YSL Beauty is a luxury French beauty company for creating bold makeup looks. Their products are beloved by French actresses, makeup artists, and celebrities. French fashion house YSL forayed into beauty in 1978, and they are still in the game. YSL Beauty products embody the brand's core values of youth, audacity, subversion, and freedom.
YSL Beauty's best-selling products include the cult favorite Touche Éclat All-Over Brightening Concealer Pen and the tantalizing Black Opium Eau de Parfum scent.
Dior Beauty
Dior is one of the most iconic luxury beauty brands in France. Dior Beauty has been on top since 1947 with the launch of the Miss Dior Perfume. Dior's French perfumes are well-known across the globe for their distinctive scents and exquisite quality. Dior also sells luxury makeup products. The beauty brand has repeatedly been highly rated for making allergy-free, long-lasting beauty products.
Some of Dior Beauty's best-selling lip products is the Addict Lip Glow Balm which gives lips a tinted color while moisturizing them as well as the Addict Lip Maximizer Plumping Lip Gloss for giving lips a plumped look.
Makeup lovers trust the Dior Forever Skin Correct Concealer for evening out the skin tone.
The Dior Diorshow 24h Buildable Volume Mascara is consistently rated very highly for its ability to lengthen and volumize the lashes.
Chanel Beauty
Chanel is known as a prestigious French haute couture house, but it's also one of the most popular luxury beauty brands in the world. It all began in 1921 with the launch of the iconic Chanel No. 5 fragrance.
Since then, scientists at Chanel Beauty have developed some of the world's most sought-after beauty products like lipsticks, foundations, lotions, and more.
Chanel Beauty's best-selling products are the Chanel Vitalumière Aqua Ultra-Light Skin Perfecting Sunscreen and the Le Volume de Chanel Mascara.
Sisley
Sisley is an independent luxury skincare and makeup brand based in France and founded in 1976 by Hubert d'Ornano and his wife Isabelle d'Ornano. Prior to starting Sisley, Hubert d'Ornano had co-founded Orlane, another luxury brand, in 1955.
Hubert d'Ornano was inspired to start Sisley after noticing a gap in the market for high-end beauty products that combined natural plant extracts with scientific research. With the help of a team of experts in botany, chemistry, and biotechnology, he began developing innovative formulas based on natural plant extracts, essential oils, and other botanical ingredients.
Sisley's first product was a revitalizing cream called "Phyto-Complex," which contained a blend of plant extracts and essential oils.
Sisley distributes some of France's best luxury beauty products like perfumes, skincare, haircare, and cosmetics to sophisticated customers. Sisley is a highly reputable brand across France and globally.
One of Sisley's best-selling skincare products is the Black Rose Cream Mask.
For makeup, its fans trust the Phyto-Eye Twist All in One Eyeshadow, Pencil & Eyeliner for their eye makeup and the Phyto-Lip Twist Tinted Lip Balm for a gentle lip tint. Each product is non-toxic and safe for your skin.
Biologique Recherche
Biologique Recherche is a French luxury skincare brand founded in 1978 that uses high concentrations of active ingredients and personalized treatments for visible and long-lasting results. The brand started as a small research and development laboratory in Paris, creating formulas for professionals in the beauty industry, and has since expanded to over 70 countries worldwide.
Biologique Recherche is known for its innovative and effective skincare products, personalized approach to beauty, and dedication to research and development for unique formulations that address a wide range of skin concerns.
The number one bestselling Biologique Recherche product is the Lotion P50, an exfoliating toner that buffs away dead skin, balances the skin's pH, and regulates oil production. French beauty experts describe it as a "facial in a bottle" so you know it's that good at what it does.
Chantecaille
Chantecaille is a luxury French beauty brand you must try. Chantecaille has been an expert in women's beauty for over 30 years, and the brand has consistently developed and distributed high-quality products. Chantecaille primarily specializes in French makeup and everyday skincare products.
Chantecaille skincare products are best known for their ability to conceal black spots and restore the natural beauty underneath your skin. The brand blends traditional medicine with natural products to develop the highest quality, non-toxic luxury French beauty products.
Chantecaille's best-selling products include the Jasmine and Lily Healing Mask and the Future Skin Gel Foundation.
Chantecaille products are scientifically proven to be effective. The brand has a group of skilled dermatologists who ensure that every product is backed up with extensive research before hitting the production cycle. This keeps them on the lists of luxurious beauty brands around the globe!
Hermès
Hermès is a newcomer to the world of Frech luxury beauty, but it looks as if it's here to stay. Hermès' beauty products embody the brand's signature luxury and sophistication, making them a sought-after choice for those looking to indulge in high-end cosmetics. Makeup artist Gregoris Pyrpylis currently heads up the Hermès beauty creative department.
One of the brand's most popular beauty products is the Hermès Rouge Hermès lipsticks, which come in a variety of matte and satin shades and finishes.
The Hermès Plein Air Complexion Balm, a lightweight tinted moisturizer with hyaluronic acid and SPF, is another popular facial makeup product by Hermès.
Hermès also offers skincare products, such as the Hermès 24 Faubourg Perfumed body cream, which is formulated with nourishing ingredients to leave skin feeling smooth and hydrated while giving you a pleasant sensory experience.
The brand has a line of fragrances, including the Twilly d'Hermès for women and the Terre d'Hermès cologne for men. These fragrances have gained popularity due to their association with the brand's coveted leather goods.
---
Next, check out the best French makeup brands and the best French skincare brands to know.