If you love subtle makeup that enhances your natural beauty, then these French makeup brands are sure to have the perfect products for you.
France is known for its natural approach to beauty. French girl makeup is never too overdone and an effortless approach is favored to give the face a clean and simple appearance.
Whether you just binge-watched "Emily in Paris" or you've always loved the French makeup look, this article will give you the lo-down on the best French makeup brands you must know!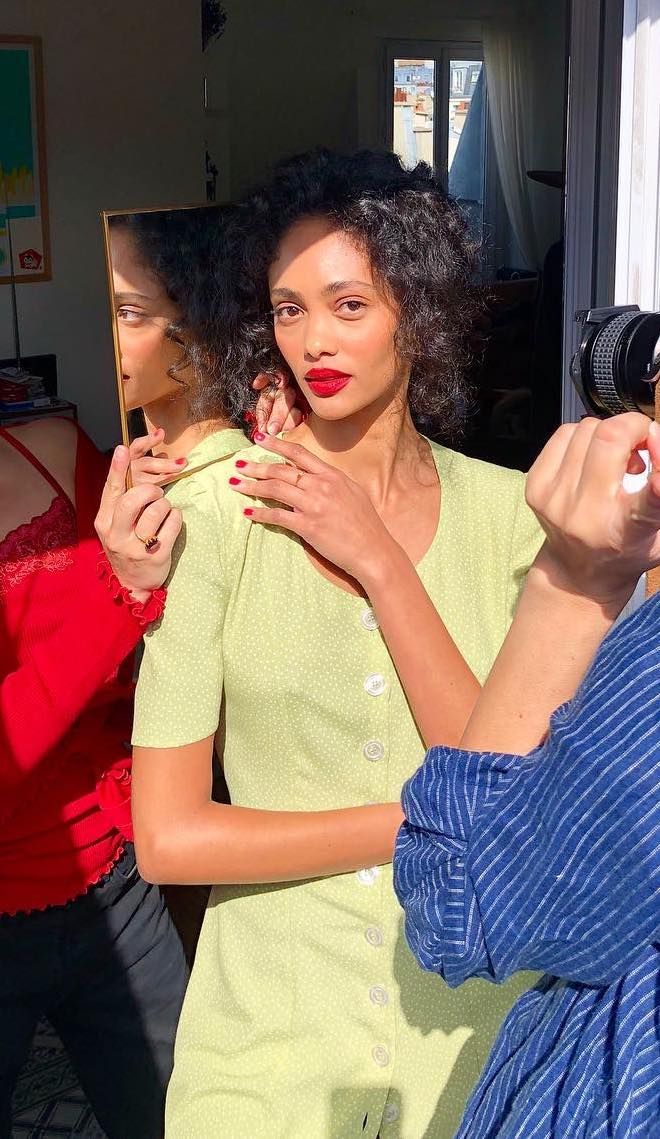 Best French Makeup Brands
Here are the top French makeup brands trusted by French celebrities and makeup artists. We'll share a little bit about each makeup company as well as some of their best-selling products in case you want to give some of them a try!
We'll start out with some of the oldest and most well-respected makeup brands and at the end share a few contemporary makeup brands that have been launched recently by French women.
Guerlain
Guerlain is one of the oldest, most luxurious, and most prestigious French makeup brands in existence. It was founded nearly two hundred years ago, in 1828, in Paris, France as a perfumer. Guerlain makeup has always been manufactured in France, too.
Bestsellers include the French glow-inducing Terracotta Bronzing Powder, made with 96% naturally derived ingredients to give your skin a sun-kissed bronze hue, as well as the refillable Rouge G Satin Lipstick, a long-wear intense color lipstick for the perfect French girl pout.
Guerlain cosmetics are made in Chartres, the heart of 'Cosmetic Valley' in France. Guerlain has been worn by French royalty, Parisian high society, and modern-day celebrities.
Lancôme
​​Lancôme is the most accessible of the luxury French makeup companies. For more than 80 years, Lancôme has served the French population with their utmost beauty needs. Lancôme even did a collaboration with the TV show Emily in Paris to promote beauty products used by the main character, played by Lily Collins.
Lancôme's Teint Idole Ultra Wear All Over Concealer is a best-selling lightweight full-coverage concealer that hydrates while brightening the skin. It lasts for 24 hours.
The Monsieur Big volumizing mascara is a bestselling French girl mascara you must try. It provides up to 12x more volume and an intense false lash effect.
Check out more of the best Lancôme beauty products adored by women around the world.
Sisley Paris
Sisley Paris is a family-owned and operated makeup company that was founded in 1976 by a husband and wife team, Hubert d'Ornano and Isabelle d'Ornano. With a background in cosmetics, the d'Ornanos saw an opportunity to create their own brand with a focus on using plant-based extracts and essential oils in their products. They named the brand Sisley, after Hubert's mother, Countess Elisabeth de Pourtalès, whose maiden name was Sisley.
The Sisley Eye Concealer with Botanical Extracts is a best-selling under-eye correcting solution to hide signs of aging, puffiness, and dark circles.
You should also try the Phyto-Lip Twist Tinted Lip Balm which colors your lips like lipstick but gives them a slight shine similar to a lip gloss.
Chanel
Some of the best French makeup brands started out as fashion houses, like Chanel. Chanel is a renowned French fashion house that was founded by Gabrielle "Coco" Chanel in the early 20th century. Chanel's foray into the cosmetics industry began in 1924 when Coco Chanel launched her first fragrance, Chanel No. 5. One of Chanel's most influential contributions to the makeup world came in the 1950s when it introduced the Chanel red lipstick.
In fact, the fashion collections even helped inspire the makeup products as in the case of Les 4 Ombres Multi-effect Quadra Eyeshadow, a four-pack eyeshadow whose pigments were inspired by the iconic Chanel tweed jackets. This eyeshadow comes in different shade packs (like pink, bronze, silver) with two bold tones to color, a deeper shade to intensify the eyes, and a lighter tone to highlight the eye.
The Chanel Rouge Allure Lipsticks are a beloved collection of luxurious lipsticks with a range of shades, including the classic red that Chanel is famous for.
The Chanel Vitalumière Aqua Foundation is a popular lightweight and hydrating foundation that provides a natural, radiant finish, lasting up to 12 hours.
French women adore Chanel Le Volume de Chanel Mascara for adding instant volume to their lashes which results in stunning wide-open eyes.
Dior
Dior Makeup is a favorite of celebrities around the world. It all began with the couture line launched in 1947. Later came the first perfume, Miss Dior, and since then, Dior has expanded into luxurious skincare and cosmetics. The cult Dior Backstage makeup line is composed of products that Dior makeup artists use on models for the brand's couture shows before they walk the runway.
The Dior Addict Lip Glow is a supermodel favorite tinted lip balm that gives your lips a rosy glow.
The Dior Backstage Rosy Glow Blush is a cult favorite blush that gives the cheeks a gentle rose flush that appears natural.
The Dior Addict Lip Maximizer Plumping Lip Gloss is one of the best lip-plumping glosses you can buy for a voluminous effect.
The Diorskin Airflash Spray Foundation is the perfect skin evening solution for busy women who want to bring an airbrushed effect to their makeup. This lightweight foundation is meant to be sprayed directly onto the face for quick application.
Yves Saint Laurent
Since 1978, YSL has rocked the makeup world with its bold colors and daring product line. Known for its 70s aesthetic shiny gold packaging, YSL never fails to disappoint makeup artists around the world.
YSL Beauty gave us cult products like the Touche-Eclat All-Over Brightening Concealer Pen – used by celebrities around the world to smooth and illuminate the complexion.
There is also the ​​YSL Rouge Volupté Shine Oil-in-Stick Lipstick Balm which offers a medium coverage color that adds shine to the lips while conditioning them.
Givenchy
Givenchy, the iconic fashion house known for dressing Audrey Hepburn, today brings us classic French makeup products like the Prisme Libre Finishing & Setting Powder, a four-color loose powder palette that color-corrects the skin while mattifying its surface, giving your skin a finished glow.
For dry lips, be sure to use Givenchy Le Rose Perfecto Hydrating Lip Balm, a color lip balm that plumps the lips while giving them a light, rosy French color. Whatever you choose, Givenchy Beauty is sure to give you elegant French makeup.
By Terry
Terry de Gunzburg developed high-end beauty products for YSL for 15 years before striking it out on her own. The By Terry Ombré Blackstar Eyeshadow is one of her bestselling products. This buildable eyeshadow stick reflects light to give you luminous eyes in four killer shades: black, gold, quartz, and bronze.
Laura Mercier
Some French makeup brands decided it would be better to launch in the States, like Laura Mercier. She didn't forget her French roots, however. Laura Mercier is known for creating flawless French girl makeup products.
The top-selling product is the Laura Mercier Translucent Loose Setting Powder which is a sheer finishing powder to set your makeup and mattify your skin. It comes in three shades for the perfect finish to your makeup.
The Laura Mercier Tinted Moisturizer Natural Skin Perfector SPF 30 is another longtime favorite of French women. It's lightweight and provides optimal coverage to hide redness and blotches and prevent a cakey appearance.
Lastly, the Caviar Stick Eyeshadow is perfect for creating a bold eye that lasts up to 12 hours without creasing.
1944 Paris
1944 is a new French makeup brand that refers to the year that French women received the right to vote in France. It is an independent makeup company focused on the responsible production of cosmetics. Sadly, it isn't sold in the States just yet but when it is, be sure to try the brand's matte lipsticks!
Bourjois
If you thought all French makeup was expensive, let me introduce you to Bourjois, the best affordable French makeup company on our list.
The Bourjois Healthy Mix Anti-Fatigue Medium Coverage Liquid Foundation is loved by thousands for the radiant finish it provides. Not only that, it includes vitamin C to provide an anti-aging benefit.
Another top seller is the Bourjois 123 Perfect CC Cream which has a semi-matte finish and conceals facial imperfections as well as provides light protection from the sun with SPF 10.
If you're looking for a tinted serum, try the Bourjois Fond de Teint Healthy Mix Extension Serum to give your face a boost of radiance while evening out your complexion.
Yves Rocher
Not all French makeup brands get their start in Paris. Some come from the countryside, where the air is fresher and the products more natural. Yves Rocher is one of those brands, which comes from Bretagne, France.
The Yves Rocher botanical beauty researchers have crafted the Grand Rouge Lipstick using camelia oil, known for its regenerating effects. The natural lipstick comes in several highly pigmented colors that result in a long-lasting comfortable look.
L'Oréal
L'Oréal is one of the most well-known affordable makeup brands in the world. Every year, thousands of women trust the brand's cutting-edge innovative formulas for their beauty needs.
Just try the L'Oréal Rouge Signature Lightweight Matte Lip Stain and you'll see what we mean. Women across the world love the bestselling long-lasting lip color that has a high impact and airy feel.
Another must-try product is the L'Oréal Infallible Fresh Wear 24HR Foundation, offering 24-hour coverage at a bargain price. The high-tech formula resists sweat, water, and won't transfer.
The bestselling mascara L'Oréal Voluminous Lash Paradise Mascara is perfect for sensitive eyes and doesn't skimp on volume.
Violette
With a fresh approach to beauty, makeup artist and YouTuber Violette_FR began her own beauty brand Violette in 2021.
The velvety lip color Petal Bouche Matte was formulated to simulate the texture of a rose petal. It provides bold color and a kissable look for your lips à la française. It seems like this is the most iconic Violette makeup product currently for sale. The Bisou Balm, a tinted lip balm or sheer matte lipstick also seems promising for a lightweight color.
Rouje
Last but not least, French style star Jeanne Damas brought us Rouje, her retro-inspired contemporary makeup line that will make you look like a chic French girl with a few swipes of your finger.
Rouje is best known for its lip palette which combines four colors to give you options when coloring your lips for the day. Bold lip color is a French girl's signature makeup look after all! Damas recommends applying it with your finger for a more natural look.
---
I hope you found this list of the best French makeup brands insightful as you look for your next makeup products. France is known for its easy-going makeup looks, so you can rely on these brands to give you that effortless French girl glow!