Lancôme is a famous French cosmetics brand that was established in 1935. It has a rich history of providing women with top-quality skincare, makeup, and fragrances.
The company was founded by Armand Petitjean, who had a dream of creating a unique beauty experience for women. He wanted to bring together science and nature to create products that would empower women to feel beautiful and confident.
A Brief History of Lancôme
The name "Lancôme" was inspired by the ruins of a castle, Le Château de Lancosme, in France. From its inception until today, Lancome has remained committed to its original vision – to provide women with the best beauty products on the market. Over the years, Lancome has developed an impressive global presence with an extensive range of beauty products.
Lancôme is often considered one of the most valuable cosmetic brands worldwide; it's no wonder why it remains such a popular brand among women today. With is innovative approach towards product development and cutting-edge research facilities in France, the Lancôme brand continues to lead in the cosmetic industry.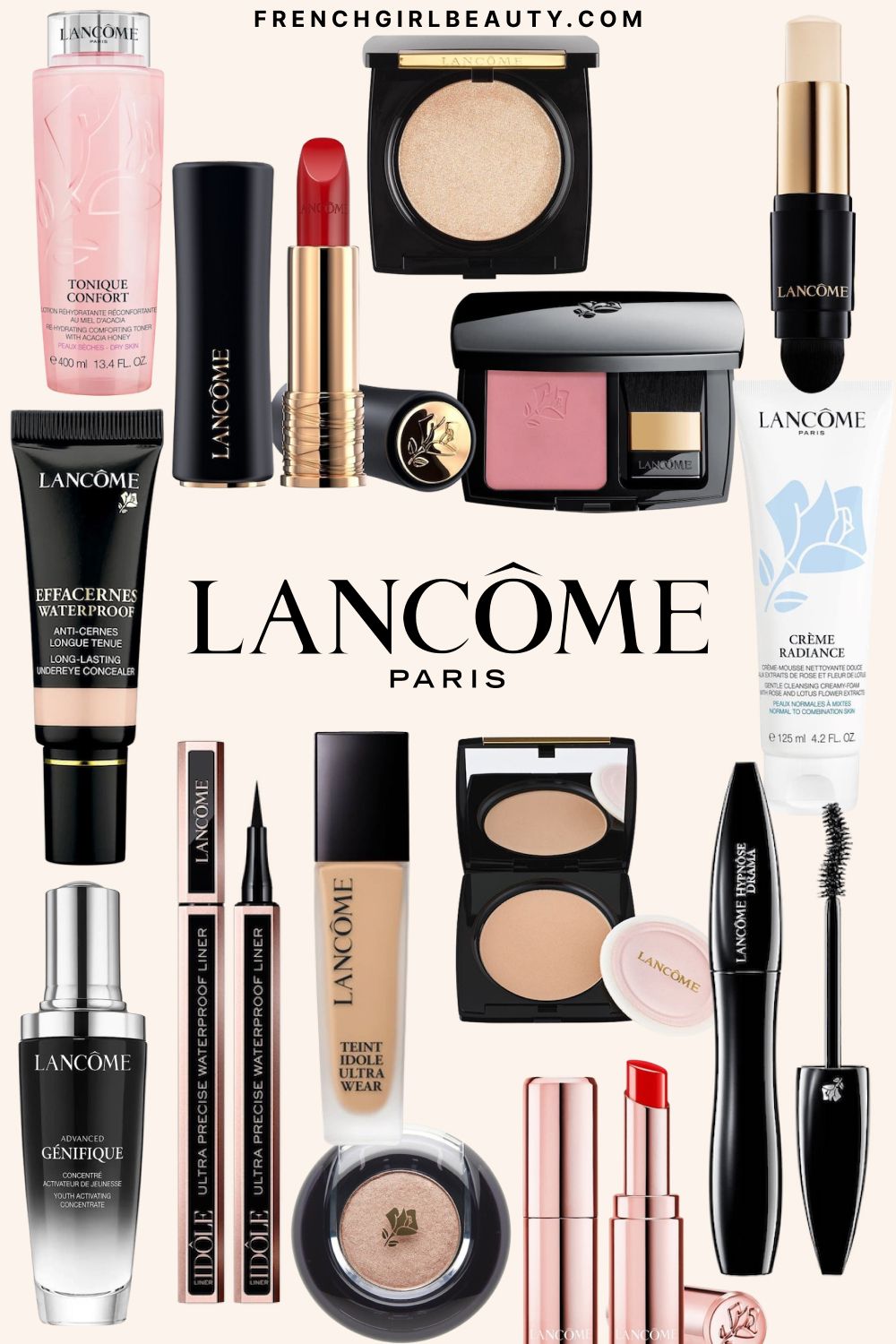 Best Lancôme Skincare Products
Let's talk about Lancôme's skincare division.
Advanced Génifique Youth Activating Serum
One of the most successful Lancôme skincare products is the Advanced Génifique Youth Activating Serum.
If you're looking for a serum that will make you look younger and fresher, the Advanced Génifique Youth Activating Serum is by far the perfect choice. This serum is designed to activate the 10 key signs of youth, including radiance, even skin tone, and texture.
It's made with a formula that contains hyaluronic acid and probiotics to help your skin stay hydrated and healthy. The serum also comes with an exclusive self-loading dropper that delivers the perfect dose of product every time.
Crème Radiance Clarifying Cleanser
The best-selling daily face wash by Lancôme is the Crème Radiance Clarifying Cleanser, a cream-to-foam facial cleanser that deeply washes away impurities without irritating the skin. It's formulated with antioxidating white lotus as well as Rose de France extract.
Bi-Facil Double Action Eye Makeup Remover
Removing eye makeup can be a hassle, but the Lancôme Bi-Facil Double Action Eye Makeup Remover makes it easy. This bi-phase formula removes even waterproof mascara quickly and easily, without leaving any oily residue behind. All you need to do is shake the bottle to activate the two phases of liquid before applying it to your eyes with a cotton pad.
Tonique Confort Comforting Rehydrating Toner
Toners are an essential part of any skincare routine, and the Lancôme Tonique Confort Comforting Rehydrating Toner is one of Lancome's best offerings in this category. This toner is formulated with acacia honey and sweet almond oil to soothe dry skin and leave it feeling refreshed and hydrated.
It's gentle enough for daily use and works well on all skin types. Simply apply it after cleansing your face with a cotton pad for best results.
Lancome's skincare products are some of their best offerings on the market today, especially when it comes to these three standouts. Whether you're looking to remove stubborn eye makeup or reverse the signs of aging, these products are sure to get the job done.
Best Lancome Makeup Products
Now let's take a look at some of Lancôme's best-performing makeup products for sale.
Teint Idole Ultra Wear Foundation
If you're looking for a foundation that provides full coverage and long-lasting wear, the Lancôme Teint Idole Ultra Wear Foundation is the way to go. This flawless coverage foundation has a velvety matte finish that stays in place for up to 24 hours, even on hot and humid days.
It's also transfer-resistant, meaning it won't rub off on your clothes or someone else's. The formula features soft-focus powders that blur imperfections and give your skin a smooth appearance. It is sweat-resistant and waterproof, to carry you through no matter what the day holds.
Plus, it's available in 50 shades, so you're bound to find the perfect match for your skin tone. The Teint Idole Ultra Wear Foundation is definitely worth the splurge if you want flawless coverage that lasts all day.
Skin Feels Good Hydrating Tinted Moisturizer with SPF 23
Lancôme Skin Feels Good Tinted Moisturizer is perfect for a natural no-makeup look; it is hydrating and contains SPF 23 to protect your skin from the sun's harmful UV rays. In addition, it is lightweight and oil-free, and there are a variety of shades to choose between for olive, neutral, warm, and cool undertones on the skin.
The formula is enriched with moringa oil and hyaluronic acid, which protects your skin. It will not clog your pores and is suitable for dry and oily skin.
Dual Finish Multi-Tasking Powder Foundation
The best powder foundation by Lancôme is the Dual Finish Multi-Tasking Powder Foundation which comes in 30 different skin tones. It comes with its own puff for on-the-go touch-ups. It can be applied dry or wet and gives your skin a soft, matte finish. The formula is buildable so you can choose whether you want sheer coverage or a complete skin evening solution.
Teint Idole Ultra Wear Foundation Stick
For the ultimate on-the-go foundation application solution, carry the Teint Idole Ultra Wear Foundation Stick with you everywhere. This multi-purpose stick gives you up to 24 hours of full coverage in an oil-free formula that has a built-in kabuki brush. It has the same formula of the beloved Teint Idole Ultra Wear Foundation mentioned above, just in a stick format.
Dual Finish Highlighter
The best Lancôme highlighter is undoubtedly the Dual Finish Highlighter which contains light-reflecting pearls for a gentle highlight that blends naturally into your skin. Vitamin E and triglycerides infused into the formula means the product won't dry out. It can be applied with a makeup brush, sponge, or your fingers.
Blush Subtil Oil Free Powder Blush
For flush, rosy cheeks, Lancome makeup fans turn to the best-selling Blush Subtil Oil Free Powder Blush. Soft as silk, this blush has a micro-bubble formula that absorbs oil and lasts for hours.
Effacernes Waterproof Protective Undereye Concealer
One of the best waterproof concealers on the market is by Lancôme. Effacernes Waterproof Protective Undereye Concealer is a highly rated natural coverage undereye concealer that instantly covers up dark circles and signs of fatigue near the eyes. The waterproof formula means it stays put no matter what activities you do throughout the day.
Monsieur Big Mascara
If you're on the hunt for a mascara that gives you bold lashes without clumping or flaking, look no further than Lancôme Monsieur Big Mascara. The oversized brush coats every lash evenly, creating volume and length without any smudging or smearing.
The formula is enriched with jojoba oil and vitamin B5 to nourish your lashes while giving them an intense black color. You'll love how easily this mascara glides onto your lashes and how long it lasts without any touch-ups required throughout the day.
Cils Booster XL Super-Enhancing Mascara Primer
Lancôme has manufactured a mascara primer that nourishes your eyelashes while giving you a volumized look. In addition, this primer maximizes your mascara and protects your eyelashes from damaging products. Cils Booster XL Super-Enhancing Mascara Primer is curated with Vitamin E and Vitamin B5 and is aimed to promote lash growth and thickness. This primer has won the 2021 Allure Best Of Beauty Award.
Color Design Eyeshadow
Lancôme's most reliable eyeshadow is the Color Design Eyeshadow, a selection of eyeshadow hues chosen by the brand's expert makeup artists to give the eyes a boost of color. From subtle shades to metallic shimmers, get the right eye makeup look no matter what the occasion with these eyeshadows by Lancôme.
Idôle Liner Ultra Precise Felt Tip Liquid Eyeliner
Liquid eyeliner makes for a dramatic makeup look and when you want to apply eyeliner with precision, look no further than the customer favorite Idôle Liner Ultra Precise Felt Tip Liquid Eyeliner. It glides on easily and can be applied in just one stroke of the hand. Plus, it's waterproof so it'll last all day!
L'Absolu Rouge Hydrating Lipstick
The Lancôme L'Absolu Rouge Hydrating Lipstick is a game-changer when it comes to hydrating lip color. This lipstick not only provides rich pigment but also moisturizes your lips thanks to its formula infused with Pro-Xylane™ and rose oil. The creamy texture glides onto your lips smoothly, leaving a satin finish that lasts for hours.
With over 40 shades to choose from, you're sure to find the perfect color for any occasion. Plus, the luxurious gold packaging makes this lipstick a must-have in your makeup collection.
L'Absolu Mademoiselle Shine Lipstick
This tinted lip gloss, balm, and lipstick in one will hydrate your lips while giving them a shiny color that stands out. The conditioning formula of L'Absolu Mademoiselle Shine Lipstick has a balmy texture and contains prolyxane and rose oil for a melt-in effect. Reviewers note the fresh scent is pleasurable, too!
Juicy Tubes Original Lip Gloss
The famous Juicy Tubes Lip Gloss by Lancôme is long-lasting and will stay on your lips for up to 4 hours. The formula hydrates your lips and creates an elegant plumped look. It can be used on its own or over matte lipstick to create a luscious look. The Juicy Tubes Lip Gloss comes in 15 various colors, and it is one of Lancôme's best-selling products! This French lip gloss gained a cult following since its release decades ago.
Lancôme has definitely nailed it when it comes to French makeup products. From foundation to mascara and lipstick, these products deliver on their promises and are worth every penny.
Best Lancôme Fragrances for Women
Lancôme has created some of the most tantalizing perfumes on the market. If you're looking for a new fragrance to add to your collection or searching for one to impress someone special in your life then consider these best Lancome perfumes for women.
La Vie Est Belle
If you're in the market for a new signature scent, look no further than Lancôme's classic La Vie Est Belle Eau de Parfum. This fragrance is all about happiness and brings about a sense of joy with every spray.
The combination of blackcurrant and pear notes at the top is followed by floral heart notes of iris, jasmine, and orange blossom. The base notes of praline, tonka bean, vanilla, and patchouli make for an incredibly warm and comforting fragrance that lasts all day.
Miracle
For those who prefer a more subtle scent that's still graceful and refined, Lancôme Miracle Eau de Parfum is the perfect choice. Its fresh floral scent features top notes of lychee fruit and freesia that give way to heart notes of magnolia, ginger, mandarin orange, pepper, and jasmine. The base notes are a subtle mix of musk and amber that make this fragrance ideal for both daywear or evening events.
Trésor
Lancôme Trésor Eau de Parfum has been popular with women since its creation in 1990 because it's simple yet romantic. Its unique blend of peach apricot blossom paired with rose petals at the top makes it a sweet aroma made irresistible by hints of vanilla at its base.
This perfume tells an unforgettable story as it lingers on your skin throughout the day thanks to its high-quality ingredients.
All three Lancôme fragrances mentioned above have distinct characters that will suit different moods and occasions. Give them all a try and pick one based on your preferences, we assure you won't be disappointed!
Is Lancôme worth it?
Most women believe that Lancôme is worth it, so regardless of which product you choose, you can trust in the Lancôme brand name. Whether you're looking for anti-aging serums or long-wear lipsticks, this luxury French brand has something for everyone. With its strong commitment to innovation and beauty, Lancôme will undoubtedly continue to be a popular choice for women who prioritize quality and elegance in their beauty routine.