Bonjour, my beautiful readers! Today, we're diving into a topic that has intrigued makeup aficionados for years: the eternal rivalry between Chanel vs Dior eyeshadows. These iconic French beauty brands have long been at the forefront of the beauty world, but when it comes to eyeshadow, which one truly reigns supreme?
The battle of Chanel vs. Dior beauty is always tough, but today we'll explore the nuances of color payoff, blendability, longevity, and even the je ne sais quoi factor that each brings to your makeup game. So grab your makeup brushes and prepare to be enlightened; it's time for the ultimate showdown!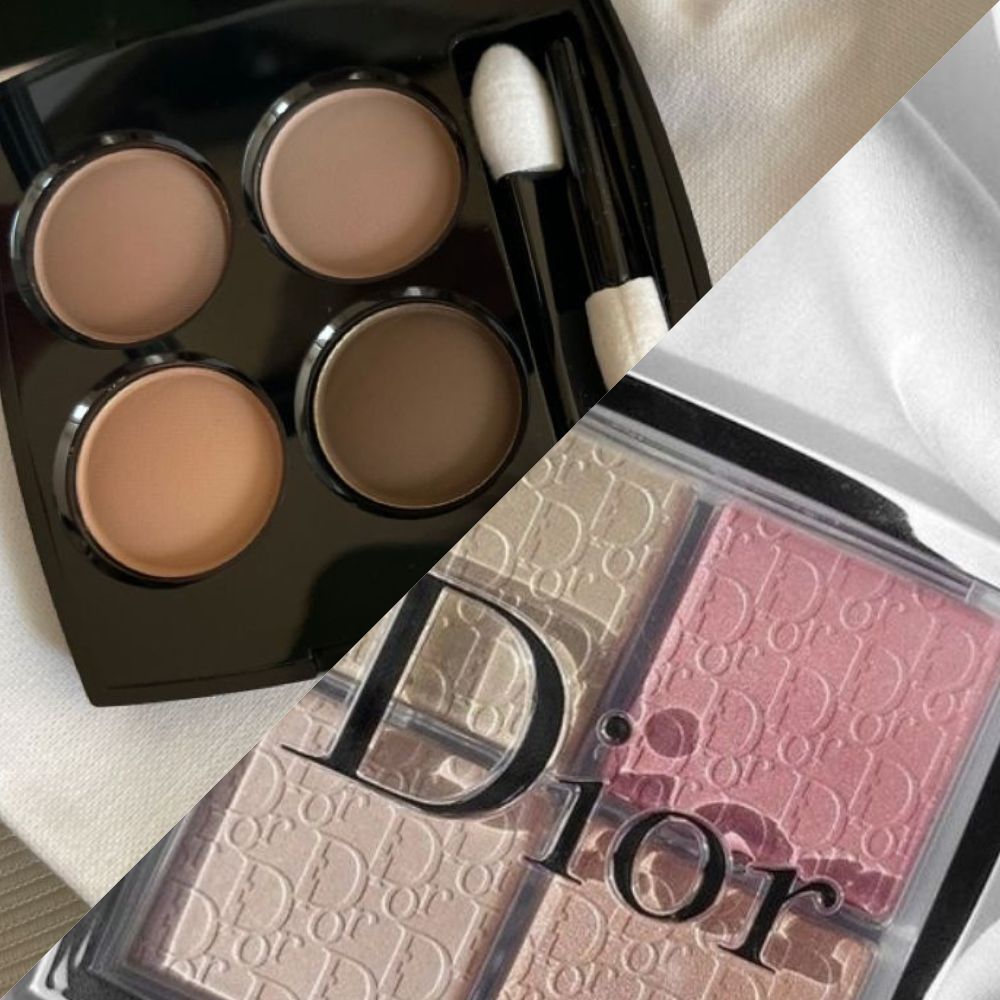 Chanel Brand History
Founded by the legendary Coco Chanel in 1910, the Chanel brand initially gained fame for its fashion designs. However, it was the introduction of Chanel No. 5 perfume in 1921 that marked the brand's foray into the beauty industry.
Since then, Chanel Beauty has expanded its portfolio to include makeup, skincare, and additional fragrances, consistently embodying the elegance and sophistication for which the fashion house is renowned.
One of the brand's pivotal makeup launches was the Rouge Allure lipstick line, which has remained a staple for many beauty addicts. Through innovation and a commitment to luxury, Chanel Beauty has secured its place as a leader in the high-end beauty market.
Dior Brand History
Christian Dior founded his eponymous fashion house in 1946, but it was in 1949 that Dior Beauty was born with the launch of its first lipstick, "Rouge Dior," a revolutionary move at the time. The brand rapidly gained prominence, especially with the 1954 release of its first fragrance, Miss Dior, named after Christian Dior's sister Catherine.
Dior Beauty has since broadened its scope to include an extensive range of cosmetics, skincare, and fragrances. Iconic products like the Diorshow Mascara and the Dior Addict lip glow and oil have become cult favorites. With a blend of innovation and luxury and the support of an LVMH acquisition, Dior Beauty continues to be a dominant player in the upscale beauty sector.
Chanel vs. Dior Eyeshadow Palettes
When looking at French eyeshadow palettes, Chanel and Dior make exceptional palettes that cater to a luxury audience, but there are subtle differences. Here's a Chanel vs Dior eyeshadow palette comparison.
Chanel eyeshadow palettes are known for their understated elegance, offering a range of matte and shimmer shades that are highly wearable for both day and evening. The formula is finely milled, which makes for effortless blending, and the color yield is generally excellent, requiring minimal layering.
Chanel Les 4 Ombres Multi-Effect Quadra Eyeshadow in Tissé Cambon is a popular neutral eyeshadow palette that features four shades that can create both subtle daytime looks and more dramatic smoky eyes for the evening. It's known for its smooth, blendable formula.
Dior eyeshadows often feature more daring and diverse color stories, which makes them ideal if you love to experiment. The textures can vary from satiny to glittery, providing a multitude of creative possibilities.
Dior Backstage Eyeshadow Palette is a cult favorite containing nine coordinated eyeshadow shades ranging from matte to metallic. The formulas blend smoothly and last all day.
Verdict
In terms of longevity, both brands offer long-lasting wear, but Dior shadows often contain a built-in primer, giving them a slight edge in staying power.
If you prefer timeless, versatile shades and a refined texture, Chanel may be the brand for you. However, if you're looking for a variety of fun colors and textures to play with, Dior might better satisfy your creative eye makeup impulses.
Chanel vs. Dior Neutral Eyeshadows
When focusing specifically on neutral eyeshadows, both Chanel and Dior offer compelling options for beige and brown tones. These are the best Chanel vs Dior neutral eyeshadows.
Chanel's neutral eyeshadows are the epitome of sophistication, often featuring an array of soft taupes, delicate pinks, and classic browns. The formulas are designed for subtle layering and offer a seamless blend, making them perfect for a natural or "no-makeup" makeup look. The understated shimmer in some of Chanel's neutrals is great for adding just a hint of glamour without going overboard.
Chanel Les Beiges Healthy Glow Natural Eyeshadow is a gorgeous neutral palette, this one leans a bit cooler toned. The shades range from peach to brown and are great for everyday wear.
In contrast, Dior's neutral eyeshadows often come with a twist. While they do offer the traditional array of beiges and browns, their formulas often include varied finishes—from matte to metallic—that allow for more dramatic and dimensional looks. Even within a neutral palette, you might find a shimmering champagne shade alongside a matte espresso, offering more versatility for wearing day and night. For staying power, Dior's neutral shades often include formulations with built-in primer, providing a bit more longevity compared to Chanel's.
Dior Diorshow 5 Couleurs Couture Eyeshadow Palette is a palette with 5 shades to contour, highlight, and color the eyes. Popular color combinations include Neutrals (nudes and browns), Cool Neutrals (taupes and grays), Warm Neutrals (golds and bronzes), Rosy Nude (pinks and browns). The pigment is buildable and easy to blend. It's fantastic for both classic and smokey eye looks.
Verdict
All in all, if you're seeking muted elegance and subtlety, Chanel's neutral eyeshadows are an immaculate choice. However, if you desire a neutral palette with more textural variety and the flexibility to go from a day-to-night look easily, Dior would be more fitting.
Chanel vs. Dior Cream Eyeshadows
Regarding cream eyeshadows, Chanel and Dior each offer distinct advantages that appeal to different beauty needs and preferences.
Chanel's Illusion d'Ombre line is well-known for its luxurious, mousse-like texture and luminous finish. These cream eyeshadows blend effortlessly and offer a good balance between pigmentation and blendability. Their formula is buildable, allowing for either a sheer wash of color or a more intense look, making them versatile for various occasions.
Chanel Ombre Première is a creamy eyeshadow that glides on easily and delivers an intense color payoff. The shimmery shades are perfect for creating sultry, smoky eyes.
Dior's cream eyeshadows, often found in their Diorshow Mono range, are intensely pigmented and offer more of a dramatic impact. These tend to have a denser consistency, providing a richer color payoff right from the first swipe. They're excellent for creating a bolder, more statement-making look.
The Dior Diorshow Mono Couleur Couture eyeshadow is a creamy, shimmery eye color with an extreme color return in a single sweep. Bestsellers include Rose Montaigne (rose gold), Tulle (pearlescent beige), and Poncho (warm bronze).
Verdict
Many of Dior's cream eyeshadows also have a long-wearing formula, sometimes outlasting Chanel's in terms of durability.
The bottom line is that if you want a cream eyeshadow that offers a delicate, buildable finish with dozens of sophisticated shades, Chanel is an outstanding choice. If you prefer shadow with higher pigmentation and longer wear, particularly for evening or special occasions, Dior would be the better option.
Chanel vs. Dior Eyeshadow Pencils
Chanel and Dior both bring their signature touches to the world of eyeshadow pencils, offering products that differ in formulation, color range, and application style. These are the Chanel vs Dior eyeshadow pencil differences.
Chanel's Stylo Eyeshadow is celebrated for its ease of use, featuring a twist-up pencil design that eliminates the need for sharpening. The formula glides smoothly onto the eyelids, offering a sheer to medium color payoff suitable for daytime looks or softer evening glam. Its lightweight texture allows for quick and effortless blending, perfect for on-the-go.
The Chanel Stylo Ombre et Contour Eyeshadow is a dual-ended eye pencil that has a velvety soft black eyeshadow on one end and a liner on the other. It's great for creating a French smoky-eye look.
Dior focuses more on bold colors and long-lasting formulas in its eyeshadow pencils. The Diorshow Kohl pencils are highly pigmented and often water-resistant, offering more resilience against smudging or fading. They are versatile, serving as both eyeliners and eyeshadows, and come in multiple finishes from matte to shimmer. The Dior formula is denser, making it more bold to make a statement with their eye makeup.
Dior Diorshow Kohl pencils are intensely colored eye pencils that come in a variety of rich, buildable shades like black, brown, navy, purple, gray, gold, and green. The creamy, blendable formula glides on smoothly and is easy to smudge out for a sultry, smoky eye look that lasts all day and night.
Verdict
In summary, if you prioritize convenience and a softer, more blendable finish, Chanel's Stylo Eyeshadow pencils are likely to be your preferred choice. However, if you're in search of eyeshadow pencils that offer high-impact color and longevity, Dior's offerings would better meet those needs.
Chanel vs. Dior Liquid Eyeshadow
If you love the ease of a swipe to apply liquid eyeshadow, then here is where Chanel really excels beyond Dior. Comparing Chanel vs Dior eyeshadow in liquid format is easy.
Chanel's Ombre Première Laque Longwear Liquid Eyeshadow is renowned for its minimalist elegance and long-wear formula. These liquid shadows offer a refined shimmer that can be easily layered to transition from a subtle day look to a more intense evening appearance. The Chanel formula is lightweight and fast-drying, making it ideal for a fuss-free application.
Dior's liquid eyeshadow, the Diorshow Liquid Mono Eyeshadow, has unfortunately been discontinued! Dior's liquid eyeshadow was a more vibrant and multifaceted approach. It was available in a spectrum of finishes, like matte and metallic, providing an expansive canvas for creativity. The color payoff was generally more intense, excellent for a more dramatic eye makeup look. Dior's liquid eyeshadows often boasted long-lasting, smudge-proof formulas that stand the test of time, even in more humid conditions.
To sum it up, if you are looking for a liquid eyeshadow that offers subtlety, effortless application, and a versatile shimmer, Chanel is your go-to option. Perhaps Dior will release a liquid eyeshadow in the future with a dynamic range of finishes to create a bolder look.
---
While both Chanel and Dior eyeshadows have loyal followings, overall customer satisfaction tends to hinge on personal preferences rather than an end-all-be-all definitive advantage by one brand.
Chanel is often praised for its refined color palettes and luxurious feel, making it a go-to for everyday elegance and a sophisticated look.
Dior, on the other hand, tends to produce more variety in its eyeshadow textures and finishes. Its clients prefer more bolder and more experimental looks. Dior eyeshadows are lauded for their high pigmentation and long-lasting, durable formulas, often enhanced with built-in primers.
Which one do you prefer? Let me know in the comments!