In the world of luxury cosmetics, two names often stand out as symbols of elegance, quality, and innovation: Chanel and Dior. Both brands have carved out their respective niches, setting industry trends and enchanting consumers with their signature classy styles and luxurious formulations. Yet, despite their commonalities, each company has a unique approach to beauty that caters to different tastes and preferences.
In this comprehensive comparison, we will go into the heart of these iconic brands, exploring their history, product offerings, and the unique characteristics that have shaped their global reputations. Whether you're a longtime fan of one or a curious beauty junkie, join me as we unravel the allure and mystique that surrounds Chanel and Dior, and find out what sets them apart in the ever-competitive beauty landscape.
Dior vs Chanel: Brand History
Chanel and Dior, both synonymous with elegance and sophistication, have storied histories that have shaped the modern fashion and beauty landscape.
Founded by Gabrielle "Coco" Chanel in 1910, Chanel began as a small hat shop and blossomed into a revolutionary fashion house, introducing the world to the little black dress and the iconic Chanel No. 5 perfume.
Christian Dior, on the other hand, founded his eponymous brand in 1946, post-World War II, bringing about the "New Look" that offered a fresh, voluminous silhouette in contrast to wartime austerity.
While Chanel sought to liberate women from the constraints of the corseted silhouette, emphasizing comfort and simplicity, Dior's approach was often more extravagant and feminine.
These contrasting philosophies laid the groundwork for both brands' foray into the beauty industry, and they continue to be reflected in their respective cosmetics lines, influencing everything from packaging to product formulation.
The legacies of Coco Chanel and Christian Dior still resonate today, shaping the identity and direction of these illustrious brands.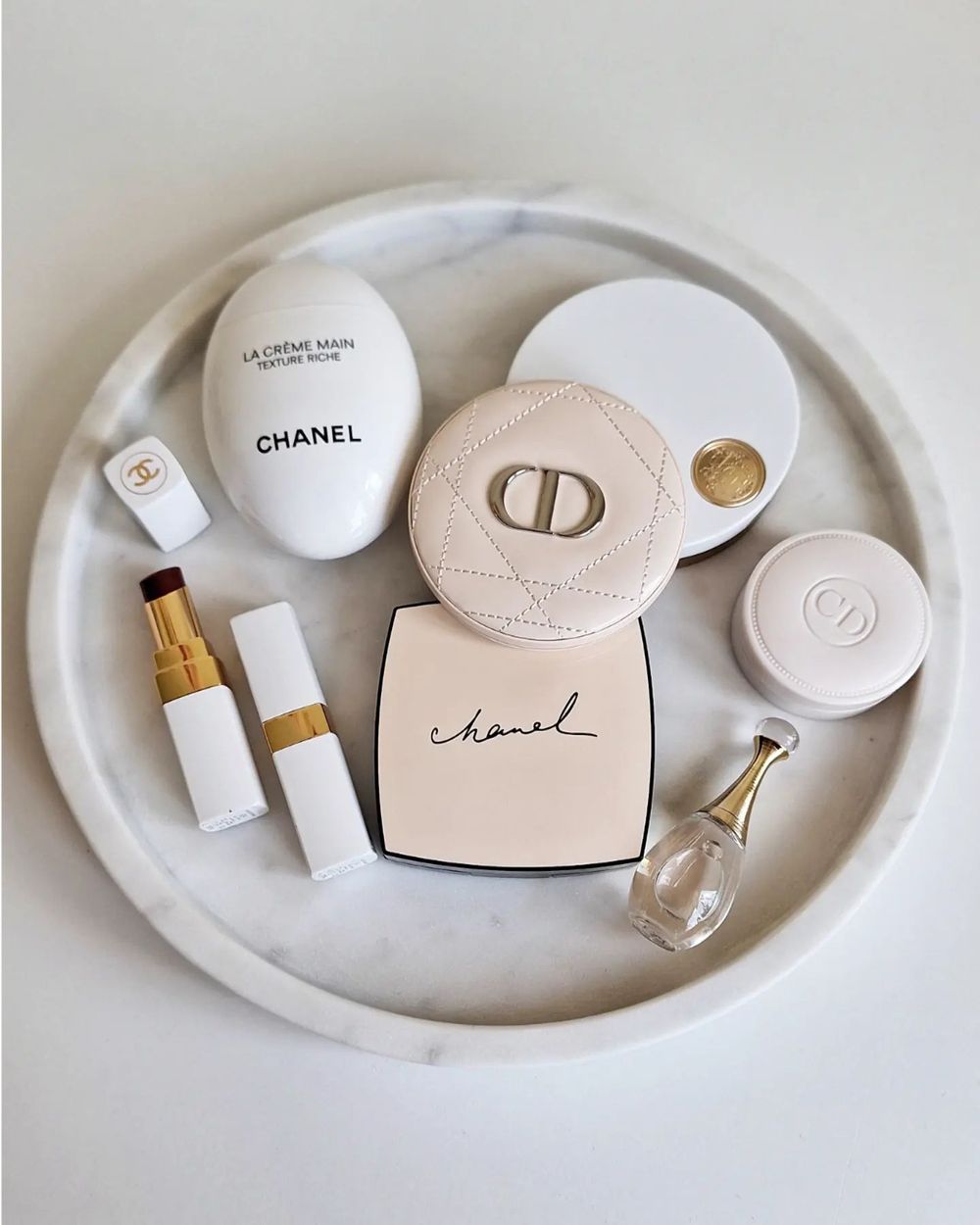 Dior vs Chanel Skincare
Let's take a closer look at Dior vs Chanel skincare.
Chanel vs Dior Face Creams
When it comes to face creams, both Chanel and Dior have cemented their reputations by offering skincare solutions that blend innovation, luxury, and efficacy.
Chanel's face creams, such as the renowned Hydra Beauty Crème, are often celebrated for their hydrating and nurturing qualities. With ingredients like Camellia Alba PFA, a patented ingredient derived from the camellia flower, Chanel's creams promise radiance, hydration, and comfort.
Dior focuses on anti-aging and revitalizing benefits in products like the Capture Totale series. Utilizing a unique blend of bio-cellular technology and natural floral extracts, Dior's face creams are created to improve the skin's natural luminosity while reducing the appearance of wrinkles and fine lines. The Dior Capture Totale Firming Cream is particularly highly rated by customers.
The preference between the two brands often comes down to personal likes and specific skin needs. Chanel is more appealing to those seeking luxurious hydration and a youthful glow, while Dior's creams attract those looking for advanced anti-aging solutions with a touch of extravagance. Both brands undoubtedly offer upscale products that reflect their rich heritage in fashion and beauty.
Chanel vs Dior Cleansers
Chanel and Dior both bring their unique brand philosophies into the realm of facial cleansers, offering products that not only cleanse but also enrich the skin.
Chanel's face cleansers, such as the L'Huile Anti-Pollution Cleansing Oil, are designed with an emphasis on purity and gentle nourishment. Crafted with ingredients like Blue Micro-Algae and Marine Salicornia extract, Chanel's cleansers strive to protect the skin's natural barrier while removing impurities, leaving the skin soft, radiant, and refreshed.
Dior offers a range like the La Mousse Off/On Foaming Cleanser, which focuses on providing a revitalizing experience. Infused with natural ingredients like White Tea Extract, Dior's cleansers aim to awaken and invigorate the skin, offering a more rejuvenating cleanse that emphasizes freshness and vitality.
While Chanel's approach leans towards a calming and luxurious cleansing experience, Dior's face washes are more about energizing and reviving the complexion. Both provide exceptional cleansing, but the choice between them is typically guided by skin type, preferences, and the sensory experience you seek from a daily skincare ritual.
Chanel vs Dior Serums
Chanel and Dior's face serums are the epitome of luxury skincare, providing targeted solutions with meticulously crafted formulas.
Chanel's serums, like the Le Lift Sérum, are known for their firming and smoothing effects. Utilizing botanical alfalfa concentrate, a potent ingredient as efficient as retinol, Chanel's serums are developed to enhance skin elasticity, reduce the appearance of wrinkles, and restore youthful radiance.
However, I've noticed that their hydrating serums seem to be the most popular and highly rated. Serums like the Hydra Beauty Micro Serum which offers intense replenishing hydration, seem to be the most sold serums by Chanel skincare.
Dior's serums, such as the Capture Totale Super Potent Serum, focus on comprehensive mature skin revitalization. Enriched with bio-cellular technology and a special hyaluronic acid booster, Dior's serums aim to deeply hydrate, firm, and give an instant plumping effect, promising a noticeable transformation with continued use.
The contrasting approaches of Chanel and Dior's serums encapsulate their respective brand identities: Chanel's elegance and emphasis on natural vitality, and Dior's innovative, scientific approach to anti-aging. Selecting between the two depends on specific skin concerns and desired outcomes, but both assure a lavish experience, rooted in years of research and the finest ingredients.
Chanel vs Dior Body Lotions
Chanel and Dior extend their expertise in luxury skincare to the realm of body lotions, each offering an indulgent experience that caters to different preferences.
Chanel's body lotions, such as the Coco Mademoiselle Moisturizing body lotion, are emblematic of the brand's signature sophistication. Infused with the scents of their iconic fragrances, Chanel's lotions are not just about hydration; they're about enveloping the body in a sensual, lasting aroma. The formulations are lightweight yet nourishing, providing a delicate and elegant touch that leaves the skin feeling soft and beautifully fragranced.
Dior's body lotions, like the Miss Dior Body Milk, take a slightly different approach. While they also often echo the scents of Dior's beloved perfumes, they emphasize a more voluptuous and enriching experience. With ingredients like Cotton Nectar and Ylang-Ylang from the Comoros, Dior's lotions are devised to sublimate the skin, providing intense hydration and a silky finish.
The contrast between Chanel and Dior's body lotions lies in the sensation they evoke: Chanel's light, elegant embrace compared to Dior's richer, more luxurious caress. Both are undeniably indulgent and cater to those who seek more than mere hydration from their body care routine. The selection between the two hinges on your preference for texture, fragrance, and the overall pampering experience.
Dior vs Chanel Makeup
Let's do a Dior vs. Chanel makeup comparison.
Chanel vs Dior Foundations
In the competitive arena of luxury foundations, both Chanel and Dior have cultivated makeup that stand as a testament to quality, innovation, and skin-perfecting technology.
Chanel's foundations, such as the Le Teint Ultra Tenue, are often praised for their long-wearing formulas and versatile coverage. Emphasizing a natural, radiant finish, Chanel's foundations are meant to unify the complexion while allowing the skin's natural beauty to shine through. Ingredients like silica beads and light-reflecting pigments are carefully blended to provide a smooth, flawless appearance that lasts throughout the day.
Dior offers foundations like the Dior Forever Skin Glow, which is renowned for its luminous, skin-enhancing properties. Infused with carefully selected skincare ingredients such as pansy extract, Dior's foundations strive to not only perfect the complexion but also improve skin quality over time. The focus on luminosity and hydration gives Dior's foundations a distinctively radiant and youthful finish, promising not just makeup but a comprehensive beautifying experience.
The discrepancy between Chanel and Dior's foundations lies in their aesthetic goals and the sensations they provide. While Chanel emphasizes natural elegance and long-lasting wear, Dior leans towards a more radiant and skincare-infused approach.
Both brands sell a range of shades and formulations that cater to various skin types and preferences. The selection between them is influenced by individual skin needs, desired finish, and the specific qualities one values in a foundation, but either option promises a luxurious and satisfying experience.
Chanel vs Dior Concealers
Chanel's concealers, such as the Le Correcteur de Chanel, reflect the brand's ethos of understated elegance and quality. With a creamy texture and various shades, Chanel's concealers are developed to blend seamlessly with the skin, offering natural coverage that masks imperfections without appearing heavy. Infused with soft-focus powders and hydrating agents, they strive to create a smooth and radiant complexion that looks fresh and feels comfortable.
Dior's approach to concealers, as seen in the Diorskin Forever Undercover Concealer, leans towards high-performance and long-lasting wear. Known for their full coverage and matte finish, Dior's concealers are crafted to not only conceal blemishes and dark circles but also to stay in place throughout the day. The formulations often include ingredients prepared to control shine and reduce the appearance of pores, reflecting Dior's focus on a flawless, photo-ready finish.
The disparity between Chanel and Dior's concealers can be seen in their texture, finish, and intended effect. While Chanel's concealers offer a more natural, luminous look devised to enhance the skin's inherent beauty, Dior's products aim for a more controlled, perfected appearance with an emphasis on longevity.
Choosing between the two comes down to individual preferences regarding coverage, finish, and wear time, as well as specific skin concerns. Both brands provide concealers that elevate the makeup routine into an experience of true luxury.
Chanel vs Dior Eyeshadows
Chanel's eyeshadows, such as those found in the popular Les 4 Ombres collection, embody the brand's dedication to elegance and timeless beauty. Known for their refined color palettes and velvety textures, Chanel's eyeshadows offer a sophisticated approach to eye makeup. With a blend of matte, satin, and shimmering finishes, these eyeshadows provide the tools to create everything from soft, natural daytime looks to more dramatic evening styles. The formula is designed for smooth application and bendability, creating a luxurious experience that reflects Chanel's penchant for understated glamour.
Dior's eyeshadows, like those in the 5 Couleurs Couture Palette collection, present a more adventurous and fashion-forward perspective. Dior's palettes often feature bold, trend-driven shades alongside classic neutrals, allowing for a wide range of artistic expression. Known for their rich pigmentation and innovative formulas, Dior's eyeshadows enable the creation of statement looks that stand out. The texture, whether matte, satin, or metallic, is crafted for intense color payoff and long-lasting wear, reflecting Dior's reputation for cutting-edge beauty.
The distinction between Chanel and Dior's eyeshadows lies in their aesthetic approach and the sensations they aim to evoke. While Chanel offers a more classic, elegant experience with shades and finishes designed for timeless appeal, Dior leans into modern trends, offering bolder colors and innovative textures.
The final choice among the two hinges on individual style preferences, desired effects, and the level of experimentation you seek in your eye makeup. Both companies uphold the standards of luxury and quality that define their respective images, ensuring an exceptional experience.
Chanel vs Dior Face Highlighting
Chanel and Dior have two best-selling makeup products designed to highlight the face. Here is a short comparison of these face-highlighting products.
The Dior Backstage Glow Face Palette comes in powder form, containing four different shades that can be mixed or used separately. Its fine powder texture offers a more luminous highlight. It comes in four shades so you can use one or two tones to highlight your face as needed. Dior: The powder form requires a brush for application, and it might take a little more time to get right!
The Chanel BAUME ESSENTIEL Multi-use Glow Stick is a highlighting stick with a balmy texture that is smooth and easily blendable. It's designed to give a sheer and natural-looking glow to the skin. The stick format is easy to bring along with you for makeup touchups throughout the day. It's easily applied directly from the stick and blended with fingers or a brush.
Both are extremely popular products among makeup lovers.
Chanel vs Dior Mascaras
Chanel's mascaras, such as the iconic Le Volume de Chanel, are renowned for their ability to add both volume and length without clumping. With a unique brush design and a rich, creamy formula, Chanel's mascaras are crafted to coat each lash evenly, creating a dramatic yet refined look. The emphasis is often on achieving a timeless elegance, with lashes that are bold yet not overly theatrical. The presence of nourishing ingredients like beeswax ensures not only a beautiful finish but also comfortable wear.
Dior's mascaras like the Diorshow Mascara, are often characterized by their innovative approach to lash enhancement. Known for their patented brushes and cutting-edge formulas, Dior's mascaras are designed to push the boundaries of volume, length, and curl. Whether it's the buildable, bold effect of the original Diorshow or the precision and definition offered by other variants in the line, Dior's mascaras cater to those looking for eye-catching, runway-inspired lashes.
The differences between Chanel and Dior's mascaras can be witnessed in their overall philosophy and design. While Chanel focuses on a balanced blend of volume, elegance, and wearability, Dior often leans more toward dramatic, statement-making effects.
The decision between the two depends on individual lash needs, desired outcomes, and personal preferences in terms of aesthetics. Both brands seem to elevate the everyday mascara application into a luxurious beauty ritual, each with its own unique charm and appeal.
Chanel vs Dior Nail Polish
Both Chanel and Dior offer some of the best nail polishes for giving your nails a classy look. Both brands are priced in the premium range, but the cost can vary depending on the line and collection.
Chanel often offers a selection of classic and chic shades, while Dior usually provides more avant-garde or trendy colors.
Dior's nail polish line is known for its Gel Coat formula, providing a glossy and smooth finish. It has the cult favorite Nail Glow, which gives the nails a slight pink tint.
Chanel's Le Vernis line is praised for its long-lasting and chip-resistant quality.
Both brands offer luxurious minimalist packaging in the form of rectangular glass bottles with a simple logo on the front. It's tough to call a winner here, as both Dior and Chanel nail polishes are great products!
Dior vs Chanel Haircare
While Chanel and Dior are both renowned for their expertise in the realms of fashion, fragrance, and beauty, their focus on haircare products is more limited compared to other areas like skincare and makeup. However, let's explore what they do offer in terms of haircare:
Dior's approach to haircare can be found within their perfumed hair mists, such as the J'adore Hair Mist. While not an extensive haircare line, these products reflect the brand's commitment to elegance and luxury. Infused with the ethereal notes of their iconic fragrances, Dior's hair mists aim to leave the hair lightly scented and subtly luminous, enhancing the overall sensory experience of the wearer.
Chanel, likewise, offers fragranced hair mists, like the Coco Mademoiselle Fresh Hair Perfume Mist. These products are designed to intertwine the senses of sight, smell, and touch, enveloping the hair in a gentle fragrance that resonates with Chanel's classic perfumes. Like Dior, Chanel's focus in the haircare domain is centered more on the art of fragrance rather than a comprehensive range of shampoos, conditioners, or styling products.
The comparison between Dior and Chanel's haircare products is essentially a contrast between their fragranced hair mists, as neither brand has extensively ventured into traditional haircare formulations. Both reflect the essence and allure of their respective perfumes, offering a luxurious touch that transcends mere function.
The final pick between the two comes down to personal scent preferences and the specific emotions or memories associated with each fragrance. Both brands promise an exquisite experience, translating their mastery of perfumery into a unique and enchanting haircare ritual.
Chanel Beauty vs Dior Beauty Pricing and Marketing Strategy
Chanel Beauty and Dior Beauty are two premium brands that operate within the luxury segment of the beauty industry, and their pricing reflects this positioning. Let's delve into an analysis of their pricing and marketing strategies:
Chanel Beauty is More Exclusive
Chanel's products are often seen as the epitome of luxury, and their pricing tends to be on the higher end, even within the luxury market. Whether it's skincare, makeup, or fragrances, Chanel often commands a premium price. The brand's reputation for exclusivity, quality, and timeless elegance justifies the higher cost for many consumers.
Chanel's use of high-quality ingredients, innovative formulations, and chic packaging also contributes to the pricing structure. The Chanel Beauty PR team works with very few celebrities and when they do, they are always A-list stars. This can sometimes make the brand feel out of touch with everyday consumers. 
Dior Beauty is More Accessible
Dior also falls within the luxury category, and its products are priced accordingly. While Dior's pricing is certainly in line with its status as a high-end brand, it is sometimes perceived as being slightly more accessible compared to Chanel.
This may vary depending on the product category and region, but in general, Dior's pricing is often lower than Chanel's for similar products. Dior's emphasis on innovation, fashion-forward design, and premium products contribute to its pricing model.
The Dior Beauty PR team works with fresh faces in the celebrity world and isn't scared to work with fashion influencers to promote their products. All this contributes to the "accessible" aura of Dior beauty products. 
Both Chanel and Dior Beauty products are positioned at the premium end of the market, reflecting their status as luxury brands. Chanel's pricing is slightly higher, resonating with its image of exclusivity and classic sophistication. Dior, while still firmly in the luxury segment, offers pricing that is more approachable to new customers.
The choice between the two will boil down to unique preferences for brand image, rather than a significant difference in cost. Both brands ensure a high level of quality, elegance, and a luxurious experience that goes beyond mere pricing considerations.
What to Know About Chanel and Dior Beauty
Which is best Chanel or Dior? It's subjective. Some women prefer Chanel's timeless elegance and exclusivity, while others lean towards Dior's innovative and fashion-forward approach. Both brands offer high-quality, luxurious products you'll be proud to own.
How is Dior different from Chanel? Dior often emphasizes innovation, bold designs, and trend-driven products, while Chanel is known for its classic, elegant, and timeless appeal. The brands differ in aesthetics, with Chanel leaning more towards understated luxury, and Dior embracing modern trends.
Is Dior catching up with Chanel? Both Chanel and Dior are prominent luxury brands with substantial market positions. While competition exists, it's hard to definitively say if one is catching up with the other without specific market data. They continue to coexist, each appealing to different facets of the luxury market.
Why is Chanel makeup so popular? Chanel's makeup popularity stems from its reputation for quality, innovation, and timeless elegance. The brand's commitment to luxurious formulations, sophisticated packaging, and its alignment with the broader Chanel ethos of exclusivity and style contribute to its enduring appeal.
---
At the end of the day, both Dior and Chanel make phenomenal products you'll be very happy with as a beauty customer!