If there's one thing that never goes out of style, it's the perfect manicure. And who better to turn to for timeless elegance than the iconic French fashion house, Dior? With their dedication to excellence, Dior has once again captured the essence of sophistication and chic in their latest nail polish collection.
Whether you're dressing up for a glamorous soirée or simply want to add a sprinkle of Parisian flair to your everyday look, these polishes offer something unique for everyone.
I'll be taking you through the best Dior nail polishes that have caught my eye, and trust me, you'll be swooning in no time. So grab your favorite macaron, sit back, and let's dive into a world of color and refinement, all with a French touch!
Is Dior a good nail polish?
Is Dior a good nail polish? Absolutely, mes amours! Dior is renowned for their luxurious nail polish collection, which brings the grace and quality one would expect from such a celebrated brand. Dior's nail polish typically offers a rich and smooth application, with a wide array of stunning shades that reflect the latest trends in fashion.
The formulation is known for its long-lasting wear, glossy finish, and resistance to chipping, making it a preferred choice for style and durability in a manicure.
The brushes are also specially designed to provide precise application, ensuring that even those without professional skills can achieve a flawless look. And let's not forget the beautifully designed bottles that add a touch of class to any vanity.
While Dior nail polishes may come with a higher price tag compared to other brands, the investment is often justified by the superior quality and the luxurious experience they provide. Whether you're looking for a classic red or a daring metallic, Dior's nail polish collection promises to elevate your beauty routine to new, glamorous heights.
Dior Nail Polish Review
Dior's nail polish collection is more than just a touch of color; it's an embodiment of grace, refinement, and timeless beauty. With a palette ranging from the classic red to the adventurous metallic, Dior offers a unique experience for every fashionista.
Join me as we explore some of the must-have shades in the Dior nail polish collection. Let your nails be your canvas, and Dior your artist!
Does Dior Nail Polish Chip?
Dior Nail Polish is known for its quality formulation, which generally adheres well to the nail's surface. However, like many nail polishes, it can chip depending on various factors, such as the application technique, the use of a base or top coat, and the wear and tear on the nails.
Proper preparation of the nail surface and following the recommended application instructions can help in achieving a longer-lasting finish. If applied carelessly or if the nails are exposed to harsh conditions, chipping may occur sooner.
Despite its premium brand reputation, Dior Nail Polish is not entirely immune to chipping. The durability may also vary across different shades and collections within the Dior Nail Polish range.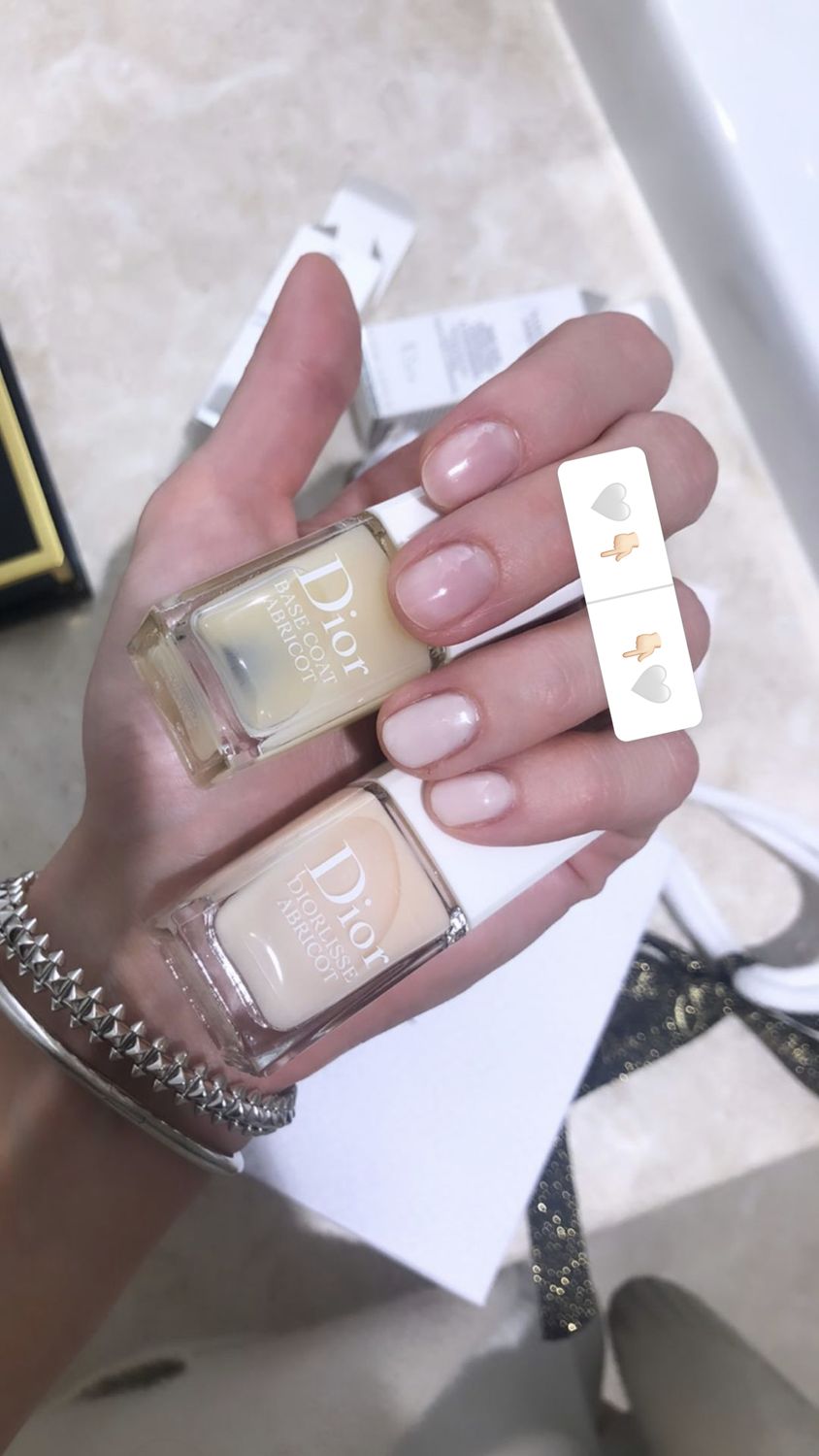 Does Dior Nail Polish Go Bad?
Dior Nail Polish, like other nail polish products, does have a shelf life, and it can go bad over time. Typically, nail polish can last anywhere from 18 to 24 months if stored properly.
Signs that the polish has gone bad include changes in color, texture, or scent, and difficulty in applying it smoothly. Storing the nail polish in a cool, dark place and keeping the bottle tightly sealed can prolong its lifespan. Exposure to air, heat, and light may accelerate the degradation process.
While Dior Nail Polish is made with high-quality ingredients, it is still subject to the same aging process as other nail polishes, and following proper storage practices is essential to maintain its quality.
Best Nail Polishes by Dior
Oh, my glamorous friends, prepare to be enchanted by Dior's world of colors and textures! Dior's nail polish collection is filled with exquisite choices, each promising to add that perfect touch of elegance to your fingertips.
Here are some of the best Dior nail polishes that I believe are absolutely incontournable (unmissable) for your collection:
The Cult Basic: Dior Nail Glow
If there's one Dior nail polish that has a cult following, it's Dior Nail Glow! The Dior Nail Glow is not just another nail polish; it's a beauty enhancer that brings out the natural beauty of your nails. With a single swipe, it promises to brighten, whiten, and provide a healthy glow to your nails, giving them a fresh and polished look.
Unlike traditional nail polishes that coat your nails with color, Dior Nail Glow works with the natural color variations in your nails. The translucent formula reacts to the unique pink and white tones of your nail, enhancing the pink part of your nail bed and brightening the white tips. The result? An instant French manicure effect without the need for multiple products or a visit to the salon.
The Classic Red: Dior Vernis Gel Shine & Long Wear Nail Lacquer in Rouge 999
Nothing speaks of glamour quite like a bold red nail. Rouge 999 is Dior's iconic red shade, offering a sophisticated finish that's perfect for any occasion. Whether it's a romantic dinner or a business meeting, this red will make a confident statement.
The Mysterious Plum: Dior Vernis in Nuit 1947 970
For a sultry and daring look, Nuit 1947 970 offers a deep plum shade. Its richness adds a touch of mystery, making it a perfect choice for evening wear.
The Elegant Nude: Dior Vernis in Grège 413
For a refined and understated look, Grège 413 offers the perfect nude tone. Its versatile shade complements all skin tones and is ideal for a chic day-to-day appearance.
The Dazzling Metallic: Dior Vernis Metallics in Metallics 612
Add a touch of modernity with the Metallics 612 shade. This metallic polish brings sparkle without being overbearing, perfect for standing out in a crowd.
The Unique Blue: Dior Vernis Gel Shine in Junon 494
Embrace your creative side with Junon 494, a dusty blue that's both trendy and distinctive. Let your nails be a reflection of your personality with this cool, serene shade.
The Soft Pink: Dior Vernis Gel Shine in Incognito 257
Incognito 257 is a soft pale pink that speaks of simplicity and grace. Ideal for everyday wear, it provides a clean and polished look that's effortlessly beautiful.
The Bright Yellow: Dior Vernis in Sunwashed 319
Bring a splash of sunshine to your nails with Sunwashed 319. This cheerful yellow shade is perfect for summer or whenever you need a joyful touch.
The Finishing Touch: Dior Gel Coat
Dior Gel Coat is designed to create a smooth, plumped, and brilliant finish, akin to that of a professional gel manicure, but without the need for UV lamps or specialized tools. This topcoat not only gives the nails an impeccably glossy finish but also works to extend the wear of your nail polish, minimizing chips and wear and tear. Its formula, enriched with organic silicon, creates a strong, protective barrier over the nail that enhances both the color and shine.
Whether worn over your favorite Dior polish or any other brand, the Dior Gel Coat promises to elevate your manicure to a new level of sophistication and resilience.
Where to Buy Dior Nail Polish in the USA
Dior's luxurious nail polish collection, including the Dior Nail Glow and Dior Gel Coat, can be found in a variety of locations, providing a touch of elegance at your fingertips. Here's where you can indulge in these fabulous products:
Visiting a Dior boutique offers the opportunity to explore the full range of nail products, receive expert advice, and immerse yourself in the opulence of the brand. If you prefer shopping from the comfort of your home, Dior's official website offers their complete nail polish collection.
Many luxury department stores such as Saks Fifth Avenue, Nordstrom, Macy's and Bloomingdale's carry Dior's nail polish line. Here you can often find exclusive shades and limited edition collections.
Online beauty retailers like Sephora and Ulta provide a wide selection of Dior's nail care products, often with real reviews and detailed descriptions.
---
With shades that offer both classic elegance and trendy style, Dior's nail polish collection promises to elevate your beauty routine to a new level of chic.
Each of these polishes embodies the quality and sophistication that Dior is known for, providing a smooth application, exceptional shine, and lasting wear. Investing in a Dior nail polish means indulging in a bit of luxury, and these selections are sure to enhance your beauty routine with a touch of Parisian elegance.
Whether you're new to Dior or looking to expand your collection, these standout shades are waiting to adorn your nails with finesse and flair.
Bonne chance in finding your perfect shade, beauties!