There's something about the inimitable charm of Chanel lipsticks! Mes chéries, when it comes to encapsulating the quintessence of French elegance and sophistication, nothing comes quite close to these luxurious gems.
For many, a swipe of Chanel's velvety texture across the lips is a transformative experience, akin to donning a couture gown. In today's post, we will step into the world of Chanel and journey through their lipstick collection, from timeless classics to daring new shades.
Whether you're seeking that perfect nude or a bold statement color, Chanel has crafted it with finesse and flair. So, ma belle, pour yourself a glass of champagne and let us revel in the beauty of Chanel's lipsticks, the epitome of Parisian chic. Bisous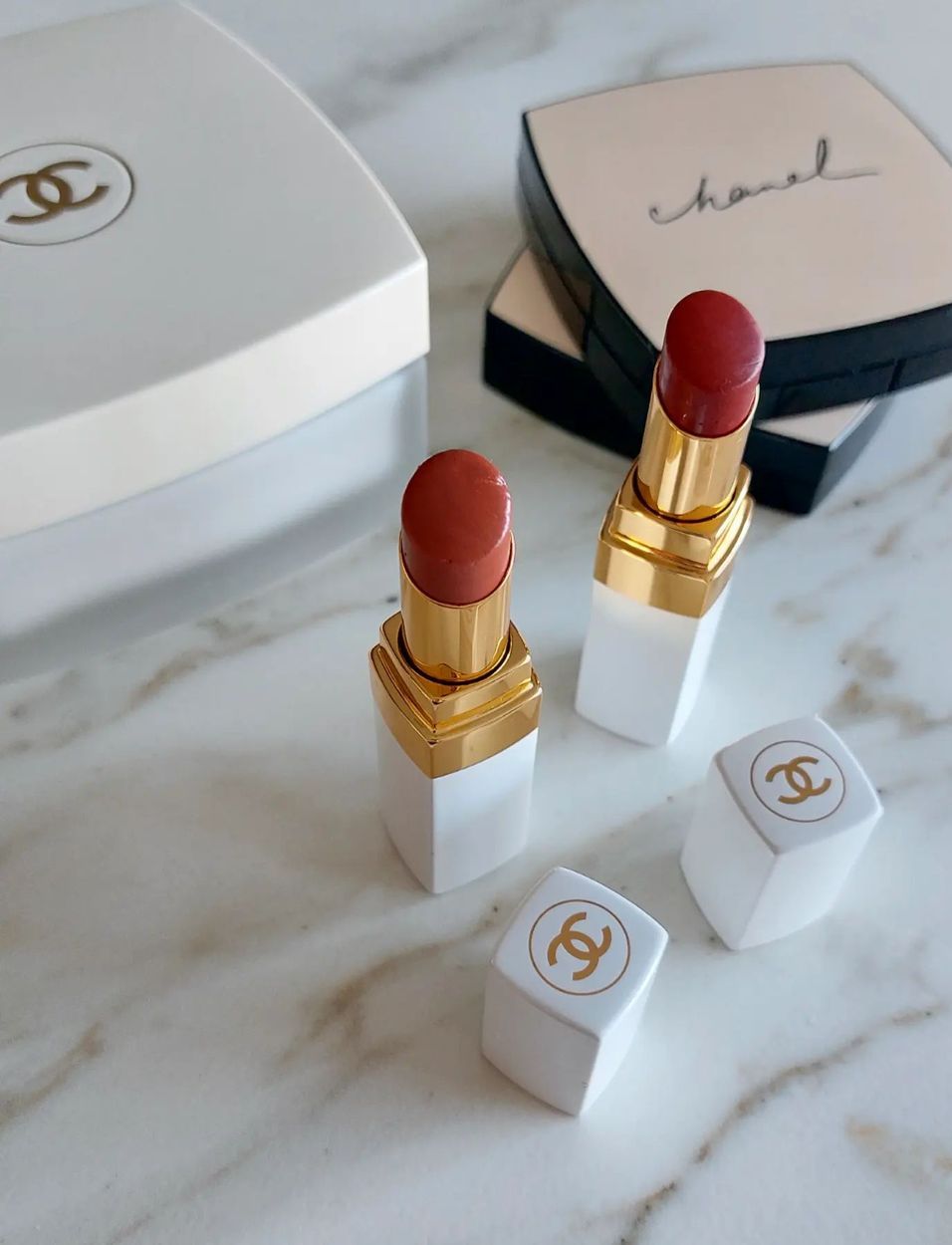 Types of Chanel Lipsticks
Here are the primary types of Chanel lipsticks you'll find for sale:
Matte: Chanel makes amazing matte lipsticks that will give you an understated chic look
Satin: Chanel also specializes in stain lipsticks that have a smooth, finished feel
Creamy: Chanel is most known for their creamy lipstick that glides on easily
Liquid: Chanel's liquid lipsticks offer ease of application and a long-lasting finish
Gloss: Chanel's lip gloss lipsticks add the shine you need to stand out from the crowd
Chanel Lipstick Formulas
Chanel has created a wide variety of lipstick formulas over the years to cater to different preferences and needs. These formulas not only vary in finish and texture but also contain unique ingredients to provide specific benefits. Here's a detailed look into some of Chanel's prominent lipstick formulas:
Rouge Allure: One of Chanel's standout lines, the Rouge Allure lipsticks provide intense color with a smooth, satin finish. They are formulated to glide on easily, offering comfort and hydration along with long-lasting wear.
Rouge Allure Velvet: This is the matte extension of the Rouge Allure range, offering a luxurious, velvet finish. Despite being matte, these lipsticks are infused with hydrating ingredients that ensure the lips stay moisturized, making them comfortable to wear all day.
Rouge Coco: The Rouge Coco line is renowned for its hydrating and nourishing properties. Made with Jojoba Esters and Sunflower Seed Oil, these lipsticks offer a creamy texture and provide a subtle shine. They are perfect for rich color with a hydrating feel.
Rouge Coco Flash: A more recent addition to Chanel's lipstick offerings, the Rouge Coco Flash is all about effortless application and a glossy finish. Its unique formula contains an innovative blend of oils, providing intense hydration and a mirror-like shine.
Rouge Coco Bloom: Offering plumping effects along with vibrant color, the Rouge Coco Bloom line is known for its luminous finish. It has a unique two-phase formula that first delivers intense color and then a shiny finish, ensuring a polished look that lasts.
Le Rouge Duo Ultra Tenue: For extreme wear, this dual-ended product offers a liquid lipstick on one end and a clear gloss on the other. The long-wearing formula ensures color stays put without drying out the lips.
Allure L'Extrait: This twisting lip crayon offers a more playful approach to lipstick. Its easy-to-apply pencil format and satin finish provide a combination of precision and comfort.
Best Chanel Lipsticks
The choice of the "best" Chanel lipsticks can be quite subjective, but nevertheless, we'll share the Chanel lipstick winners according to us. There are certainly some standout favorites that have been adored around the world. Read about how to apply lipstick like the French after you pick your winner!
Here are several Chanel lipsticks that have received acclaim from beauty addicts and professionals alike:
Rouge Coco in 444 Gabrielle
Rouge Coco in 444 Gabrielle was named after Coco Chanel herself, this classic red shade embodies timeless glamour. Its creamy texture provides hydration and a touch of shine. If there's one ultimate best Chanel lipstick to buy, the Rouge Coco in 444 Gabrielle is it! It's the most iconic shade.
Rouge Allure Velvet Lipstick
A timeless red with a matte finish, Rouge Allure Velvet in a classic shade like Essentielle or Mysterieuse offers both sophistication and allure. Its velvet semi-matte texture ensures comfort without compromising the intensity of the color.
Rouge Coco in Mademoiselle
The Rouge Coco lipstick in Mademoiselle is classic nude-pink shade that's become a must-have for many. It provides a hydrating, creamy finish that flatters a wide range of skin tones.
Rouge Allure in Pirate
The vibrant red shade of Rouge Allure in Pirate is iconic and often associated with the bold and elegant Parisian chic style. Its satin finish provides a luxurious feel on the lips.
Rouge Coco Flash in Boy
Rouge Coco Flash in Boy is a sheer and hydrating formula, Boy is perfect for a natural, everyday shade with a glossy finish.
Le Rouge Duo Ultra Tenue in Ever Red
Le Rouge Duo Ultra Tenue in Ever Red (bold dark red) or Merry Rose (soft rose shade) is versatile and long-wearing, perfect for a subtle daytime look or a romantic evening ensemble. It's a liquid lipstick that will give your lips a high-shine effect.
Rouge Coco Bloom in Dream
The Rouge Coco Bloom in Dream is a stunning plum shade that offers a luminous finish and a plumping effect, making the lips look fuller and more vibrant.
Rouge Allure Velvet in L'Exubérante
Rouge Allure Velvet in L'Exubérante is a bold fuchsia that's both playful and elegant. Its matte finish and vivid color make it a standout choice for women who dare to be different.
Rouge Allure L'Extrait in Rose Turbulent
Chanel's Rouge Allure L'Extrait in Rose Turbulent is a beautiful berry shade in a convenient twist-up crayon format, offering precision and a satin finish that can be worn through various occasions.
Rouge Allure Laque in Ultimate
Part of Chanel's liquid lipstick range, Rouge Allure Laque in the Ultimate shade offers intense pigmentation and a glossy finish, creating a polished and modern look.
These dreamy Chanel lipsticks represent a mix of classic shades and innovative formulas, each embodying the signature elegance and luxury of Chanel. Whether you want a bold statement or a subtle enhancement, these Chanel lipsticks will elevate your beauty routine. Try them in-store if possible, as shades can look different depending on individual skin tones and lighting.
History of Chanel Makeup
Chanel's history with lipsticks began with the iconic fashion designer Gabrielle "Coco" Chanel. Known for revolutionizing the world of fashion, Coco Chanel's impact extended to the beauty industry as well. The history of Chanel lipsticks is a reflection of the luxury goods brand's commitment to elegance, invention, and timeless style.
In 1924, Chanel launched its first makeup line, focusing on simplicity and refinement. The early lipsticks were created to complement the fashion of the time, emphasizing a natural and sophisticated look. The packaging itself was sleek and minimalist, reflecting the aesthetic that Coco Chanel was famous for.
The brand's real breakthrough in the lipstick world came with the launch of the "Rouge Allure" line. This lipstick collection encapsulated the essence of the modern woman with bold and long-lasting shades. With smooth textures and innovative formulas, these lipsticks were designed to enhance a woman's natural beauty.
One of the most renowned Chanel lipsticks is the Rouge Coco, named in tribute to Coco Chanel herself. Launched in 2010, the Rouge Coco line is known for its hydrating formula and rich color palette, ranging from soft nudes to intense reds. This lipstick quickly became a staple in the beauty world, representing the epitome of luxury and style.
Chanel expanded its lipstick offerings, experimenting with various formulations, finishes, and shades. From matte to glossy, sheer to fully pigmented, Chanel's lipsticks embody a harmonious blend of tradition and modernity.
Chanel's best lipsticks have been worn by many celebrities and fashion icons throughout history, further cementing the brand's position in the beauty industry. They have become symbols of French elegance, transcending trends and always staying true to the brand's core philosophy of understated luxury and sophistication.
In the universe of Chanel, lipstick is not just a cosmetic product; it's an expression of identity, an art form, and a piece of history. By celebrating the essence of femininity, Chanel lipsticks have become timeless classics, representing a beautiful legacy that continues to inspire and allure women around the globe.
What to Know About Chanel Lipsticks Before Buying
What are some long-wearing Chanel lipsticks?
Chanel offers a range of long-wearing lipsticks that are perfect to avoid frequent touch-ups. Some of the most popular long-wearing options include Chanel Rouge Allure Ink Fusion, Chanel Rouge Allure Velvet Extreme, and Chanel Rouge Coco Flash. These lipsticks are designed to provide intense color and long-lasting wear without drying out the lips.
Which Chanel lipstick shades are best for medium skin tones?
Chanel offers many lipstick shades great for medium skin tones. Some of the most popular medium skin tone shades include Chanel Rouge Coco Flash in Boy, Chanel Rouge Allure Velvet in La Fascinante, and Chanel Rouge Allure in Pirate. These shades and hues complement medium skin tones and supply a natural-looking finish.
What is the most iconic Chanel lipstick shade?
The quintessential iconic Chanel lipstick shade is undoubtedly Rouge Coco in Gabrielle. This classic red shade was created in honor of the founder of the Chanel fashion house, Gabrielle "Coco" Chanel, and has been a staple in the brand's lipstick collection since its launch. It's a timeless shade that looks great on all skin tones and is perfect for any occasion.
Is Chanel lipstick worth the investment?
Chanel lipsticks are known for their high quality and luxurious feel, which makes them a popular choice among beauty junkies. While they are more expensive than some other lipstick brands, many people believe that they are worth the investment due to their long-lasting wear, intense color payoff, and moisturizing properties.
Which Chanel lipstick shade is best for fair skin?
Chanel offers tons of lipstick shades that are suitable for fair skin tones. Fair skin tones would do well with the shades Rouge Coco in Mademoiselle and Rouge Allure in Pirate. These shades will complement fair skin tones and provide a natural finish.
What are some of the best nude Chanel lipsticks?
Chanel offers a variety of nude lipstick shades that are perfect for creating a natural, understated look. Some of the most popular nude shades include Rouge Coco in Adrienne, Rouge Allure Velvet in Nuance, and Rouge Allure in Pensive. These shades provide a subtle hint of color that is perfect for everyday wear.