Bonjour my beauties! Today, we're diving into the world of luxury makeup that promises not just coverage but an experience of sheer elegance—the best Chanel foundation (for YOUR skin type).
For years, Chanel has been a pioneer in crafting beloved foundation formulas that deliver a seamless blend of sophistication and performance. It's about time we explore what makes them a coveted choice for Parisians and celebrities like Kendall Jenner and Hailey Bieber.
Whether you're after a natural glow or a full-coverage finish, this iconic French luxury beauty brand offers makeup foundations for diverse skin tones and types, all while exuding that classic Parisian allure.
Stay tuned, as I guide you through the best Chanel foundations that are worth every penny, and how to choose the one that's perfect for you. On y va!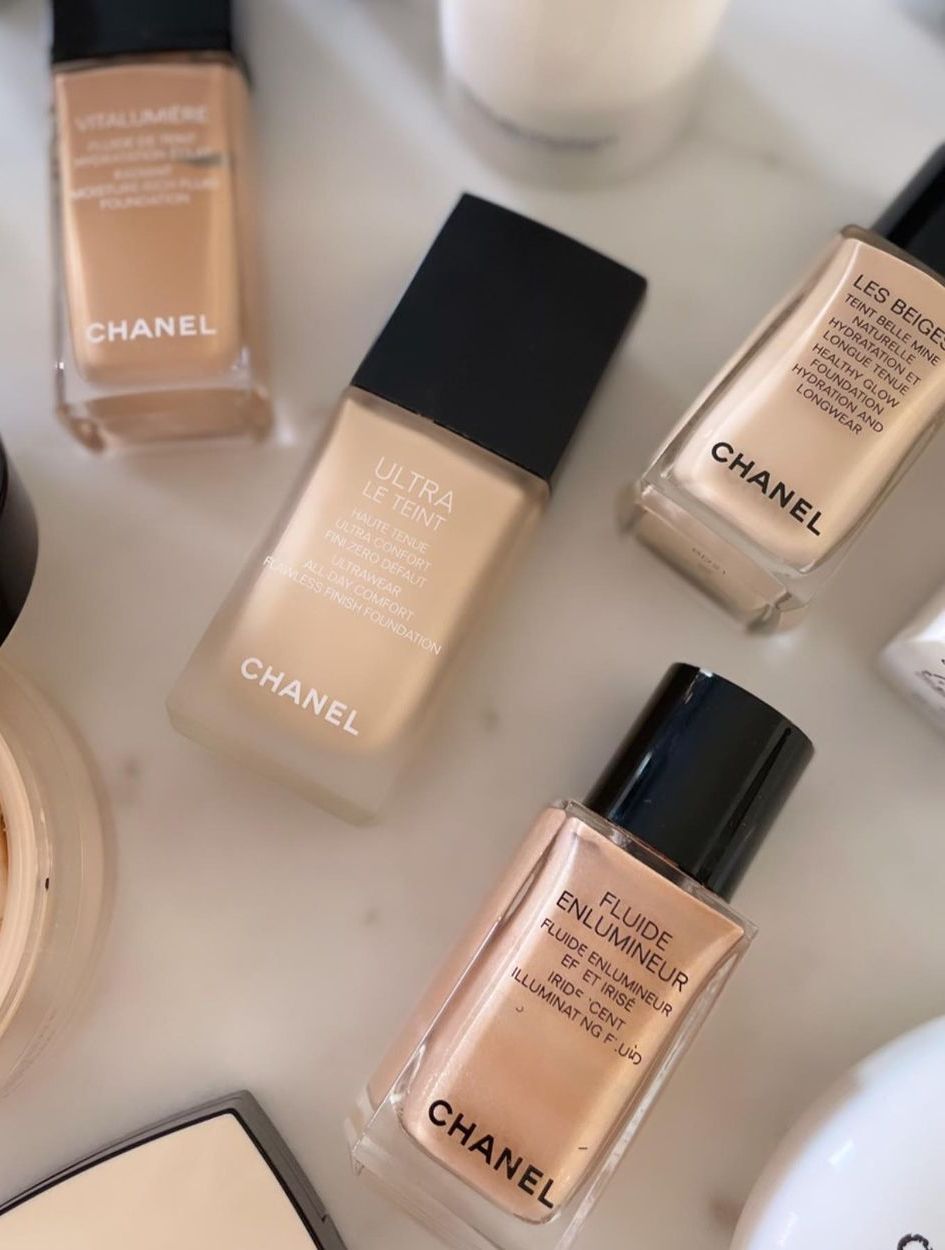 Best Chanel Foundation Formulas by Coverage
Here are the best-selling Chanel foundations grouped by coverage to add to your makeup bag. Each of these has many celebrity fans and is a great addition to your French beauty routine!
Water-Fresh: Ultra-Light Coverage
Chanel Les Beiges Water-Fresh Tint is a skin tint that provides a sheer, hydrating layer for a radiant glow. It's Chanel's version of tinted moisturizer. Formulated with micro-droplets of pigment, it evens out skin tone while offering a refreshing sensation upon application.
The Chanel Les Beiges Travel-Size Water-Fresh Tint is essentially the travel-friendly version of the Water-Fresh Tint. It offers the same radiant glow and lightweight hydration, but in a convenient smaller package suitable for on-the-go use.
The Chanel Les Beiges Water-Fresh Complexion Touch is a concealing foundation designed to enhance and perfect your complexion. Its lightweight formula offers buildable coverage, making it easy to cover blemishes and imperfections for a natural-looking finish.
Vitalumière: Light Coverage
Chanel Vitalumière Aqua Ultra-Light Skin Perfecting Sunscreen Makeup SPF 15 is a lightweight, oil-free liquid foundation that supplies sheer or light coverage with a natural finish. It contains sunscreen and hydrating ingredients to keep skin looking fresh and radiant all day. Fans like Kendall Jenner love the dewy glow it gives thanks to the gel-like formula.
The Chanel Vitalumière Radiant Fluid Foundation is a liquid foundation that aims to provide a luminous, natural finish. With its lightweight formula, it offers weightless coverage while imparting a radiant glow to the skin.
Les Beiges: Medium Coverage
Chanel Les Beiges Healthy Glow Foundation is a gel-cream formula that delivers light and/or medium coverage with a dewy, barely there finish. It hydrates and has a long-wear formula to last all day.
Chanel Les Beiges Healthy Glow Sheer Powder is an oil-free, powder foundation that delivers buildable, natural coverage with a healthy radiance.
Ultra Le Teint: Full Coverage
Chanel Ultra Le Teint Ultrawear Flawless Finish Foundation provides full coverage with a matte, powdery finish that stays put all day. It is formulated to control shine and blur imperfections for a smooth, flawless look that wears for up to 15 hours.
Chanel Ultra Le Teint Velvet Blurring Smooth-Effect Foundation has a velvet, matte finish and SPF 15. Designed for a matte, airbrushed finish, this foundation is a winner. The velvety texture blurs imperfections and provides long-lasting coverage without feeling heavy on the skin.
Chanel Ultra Le Teint Ultrawear Flawless Finish Compact Foundation offers full coverage in a portable compact format. It promises all-day comfort while delivering an immaculate, matte finish that is durable and comfortable to wear.
For Mature Skin: Sublimage
The Chanel Sublimage foundations are makeup designed for dehydrated, mature skin.
Chanel Sublimage le Teint Ultimate Radiance Generating Cream Foundation is a luxurious foundation that aims to provide the ultimate in skin radiance. It combines the benefits of skincare with makeup, offering both hydration and a luminous finish.
Chanel Sublimage L'Essence de Teint Ultimate Radiance-Generating Serum Foundation merges serum-like skincare properties with makeup functionality. It aims to provide a radiant, youthful appearance while delivering essential hydration and nourishment to older skin.
For Mature Skin: N°1
The Chanel N°1 skincare line contains luxury products designed for mature skin.
Chanel N°1 de Chanel Revitalizing Foundation is focused on skincare as much as coverage, with ingredients meant to revitalize and rejuvenate the skin. It provides a balanced finish that combines both radiance and long-lasting wear.
Sunscreen Foundation/CC Cream
Chanel Super Active Complete Correction Sunscreen is a multi-functional product that serves as a sunscreen and color corrector. It offers broad-spectrum SPF protection while also addressing uneven skin tone and texture.
On-the-Go Foundation
Chanel Baume Essentiel Multi-Use Glow Stick is a creamy, luminous stick that can be used on cheeks, lips, and eyes for a subtle wash of color and radiance. It provides sheer, buildable coverage with a dewy glow.
For Men: Boy de Chanel
Chanel Boy de Chanel Foundation is tailored for men's skin, offering a natural-looking, lightweight coverage. It aims to enhance the complexion without a heavy or cakey finish, suitable for everyday wear.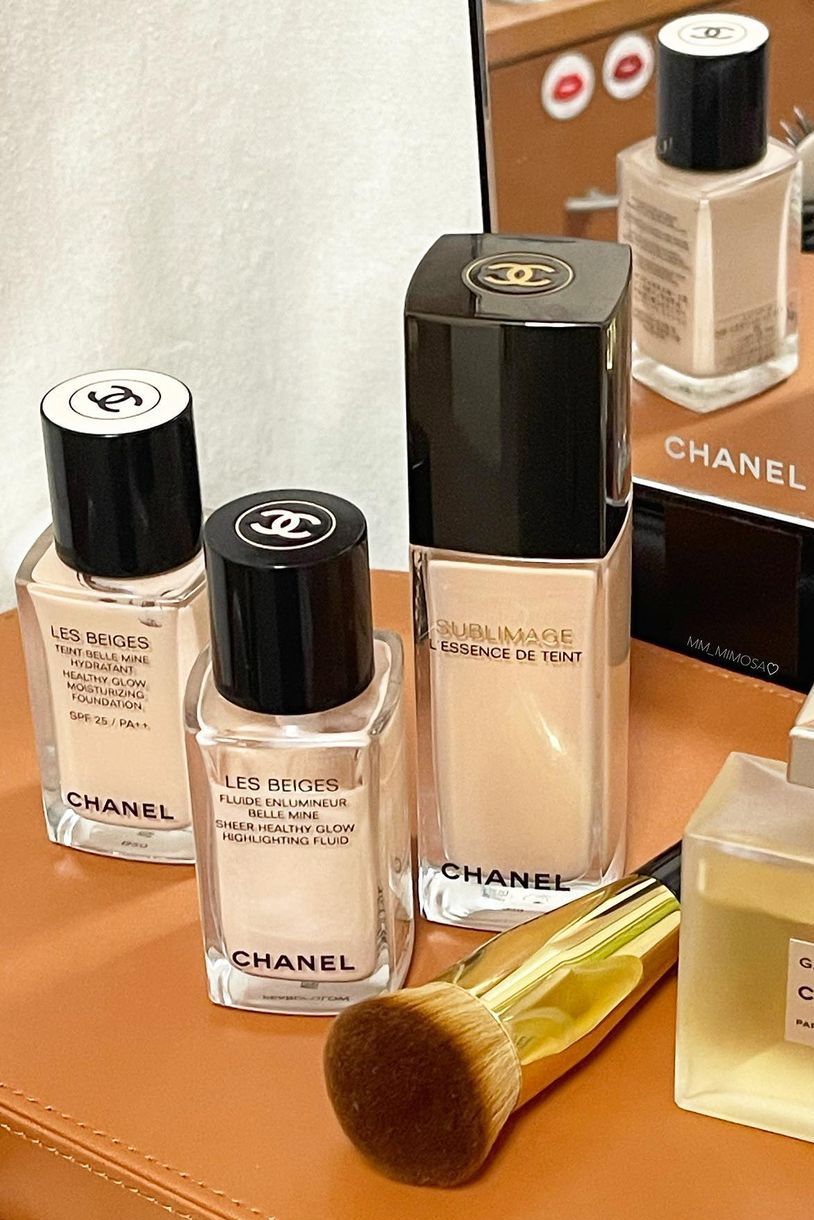 Chanel Foundation Textures
When choosing the best French foundation for you, it's necessary to consider the different foundation textures available. Chanel offers multiple foundation textures for you to choose from:
Chanel Foundation Finishes
The foundation finish you choose affects how the product appears on your face to others. Here is the selection of foundation finishes offered by Chanel.
Satin Finish Foundation: A satin finish foundation offers a balanced look that is neither too matte nor too dewy, providing a natural, skin-like appearance. For a satin finish, Chanel Ultra Le Teint Ultrawear Foundation is the best choice that combines radiance with long-lasting wear.
Matte Finish Foundation: Matte finish foundation absorbs excess oil and provides a flat, shine-free complexion, ideal for oily or combination skin. Chanel Ultra Le Teint Velvet Blurring Smooth-Effect Foundation is designed to give you a matte, airbrushed finish without feeling heavy.
Glowing Finish Foundation: Glowing finish foundation imparts a radiant, dewy look to the skin, making it appear healthy and luminous. For a glowing finish, go with the Chanel LES BEIGES Healthy Glow Foundation for its silky shine properties and radiant coverage.
History of Chanel Beauty
Founded by Gabrielle "Coco" Chanel in 1910, Chanel initially made its mark as a fashion house, establishing itself as a symbol of timeless elegance and luxury. It wasn't until 1921 that Chanel delved into the beauty industry with the launch of its first fragrance, Chanel No. 5, created by perfumer Ernest Beaux. The dreamy Chanel perfume quickly became an iconic scent and set the stage for Chanel's future successes in the beauty sector.
In 1924, Chanel expanded its beauty line with the formation of Société des Parfums CHANEL which was intended to complement the fashion business and deepen the brand's engagement with its customer base. The line grew to include skincare and makeup products, all reflecting the brand's commitment to quality, innovation, and sophistication.
Since then, Chanel Beauty has launched several groundbreaking products, such as the first non-transfer lipstick, the Rouge Allure line, and a premium skincare range, embodying Chanel's French cutting-edge technology and high-quality ingredients.
From its classic compacts to its luxurious skincare serums, Chanel Beauty continues to be a leader in the global cosmetics industry. It combines the traditional elegance of its French roots with modern scientific advances, resulting in products that offer both performance and the experience of luxury.
Chanel's beauty products have become as iconic as its fashion collections, earning a devoted following worldwide and solidifying the brand's legacy as a luxury lifestyle brand.
Best Chanel Foundation Celebrity Favorites
Which Chanel foundation does Kendall Jenner use? Kendall loves using the Chanel Vitalumière foundation to even out her complexion. It's an integral part of her makeup routine.
Which Chanel foundation does Haily Bieber use? Hailey Bieber prefers using the Chanel Les Beiges Healthy Glow Foundation which leans into her "less is more" approach to everyday makeup. She loves how it gives her a "natural, glowy vibe."