Bonjour les filles! Today, we're diving into the haircare world of French scalp serums, an often-overlooked secret to achieving that enviable, effortlessly chic French-girl hair.
You might lavish attention on your tresses with high-end shampoos and conditioners, but trust me, a radiant mane starts at the roots.
In France, the scalp is considered the foundation for beautiful hair, much like how good skincare sets the stage for flawless makeup.
So, let's journey together into the world of these magical elixirs that promise not only a healthier scalp but also luscious locks that even Brigitte Bardot would envy. By the time you're done reading, you'll be convinced a scalp serum is one of the best French haircare secrets, too! C'est parti!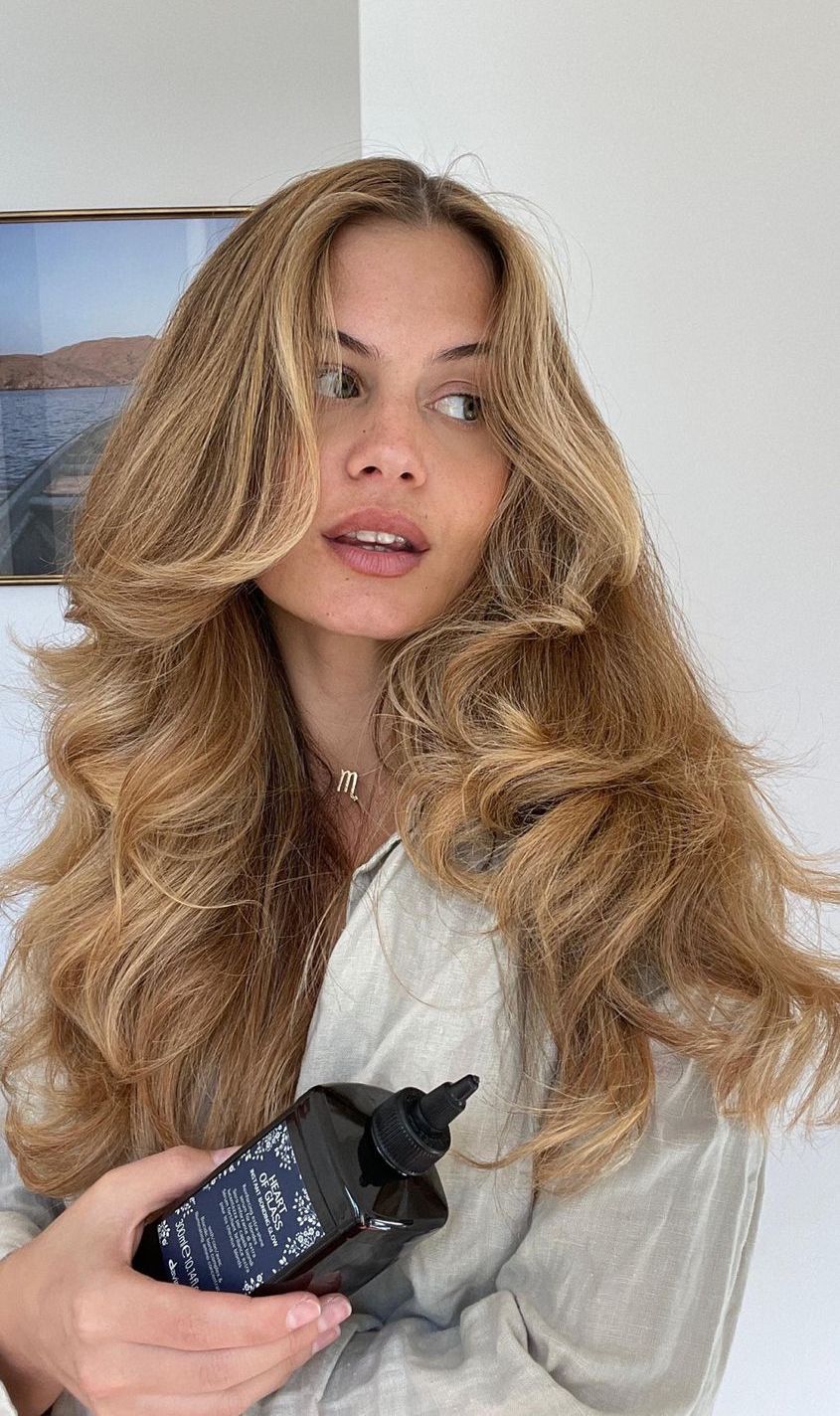 Scalp Serum Benefits
Scalp serums offer a multitude of benefits that contribute to overall hair health and beauty. Firstly, they nourish the scalp, creating an optimal environment for hair follicles to grow. Many serums contain active ingredients like peptides, vitamins, and natural oils that address scalp issues like dryness, flakiness, and irritation. A healthy scalp sets the stage for stronger, more resilient hair strands.
Secondly, some scalp serums are formulated to tackle specific problems such as thinning hair or hair loss. Ingredients like Minoxidil or Stemoxydine work to reactivate dormant hair follicles, promoting new growth and increasing the density of the hair. These targeted treatments can be a game-changer for people suffering from many different hair concerns.
French Scalp Serums
Klorane SOS Soothing Serum: This scalp serum is designed to soothe and calm irritated, itchy, and sensitive scalps. It contains peony extract, which has anti-inflammatory properties and is free from parabens, silicones, and sulfates. This serum is best for sensitive scalps or those experiencing scalp irritation and flakiness.
Kérastase Nutritive Nutri-Supplement Scalp Serum: This serum is developed to nourish and hydrate the scalp, promoting healthy hair growth. It contains vitamins and minerals, including B vitamins and zinc, which help to strengthen hair and improve its overall health. With regular use, it replenishes scalp nutrients to boost hair density and volume. This serum is best for dry or dehydrated scalps, and improving the health of the hair from the inside out.
René Furterer Triphasic VHT+: This scalp treatment serum targets hair loss and thinning hair. This leave-in serum contains vitamins, essential oils, and plant extracts that work together to stimulate hair growth, reduce shedding, and strengthen the hair shaft. Triphasic VHT+ is known for its ability to thicken fine hair and help treat alopecia and other conditions that cause excessive hair loss.
Kérastase Potentialiste Hair & Luxury Scalp Serum: This serum is formulated to strengthen hair and promote a healthy scalp by stimulating hair follicles. It contains ceramides, which strengthen hair fibers, and hyaluronic acid, which hydrates and moisturizes the scalp. This serum is best for weak hair, or improving the overall health of the scalp.
L'Occitane Strength & Volume Scalp Serum: This serum is created to add volume and strength to fine, limp hair. It contains a blend of essential oils, including rosemary, basil, peppermint, lemon, and juniper, which work to stimulate the scalp and promote fuller, thicker hair growth. This serum is best for fine, limp, or thinning hair.
Kerastase Resistance Scalp & Hair Serum Extentioniste: This serum is specifically formulated to promote healthy hair growth and prevent breakage. With the key ingredient ceramides, this serum fortifies the scalp barrier and hair fiber. It contains creatine, which bolsters hair fibers, and ceramides, which help to repair damaged hair. This serum is best for fragile or broken hair, and if you're looking to grow your hair longer.
Leonor Greyl Régénerescence Naturelle Scalp Oil Serum Treatment: This is a nourishing oil serum that adds shine and vitality to lackluster hair. Infused with natural oils like argan, jojoba, and sunflower, this lightweight serum smooths, softens, and boosts radiance while also soothing and hydrating the scalp. Éclat Naturel is popular for restoring luster and manageability to dry, damaged hair.