Bonjour, lovelies! Today we're diving deep into one of France's best-kept beauty secrets: the French Green Clay Hair Mask. Renowned for its unparalleled detoxifying properties, this miraculous clay has been a staple in French beauty regimens for centuries. But it's not just for your skin; oh no, mes amis, this wonder ingredient can work magic on your hair as well!
Whether you're dealing with an oily scalp, lifeless strands, or simply looking for that extra boost of vitality, stay tuned as I walk you through the extraordinary benefits of French Green Clay and guide you on how to create your very own luxurious hair mask at home.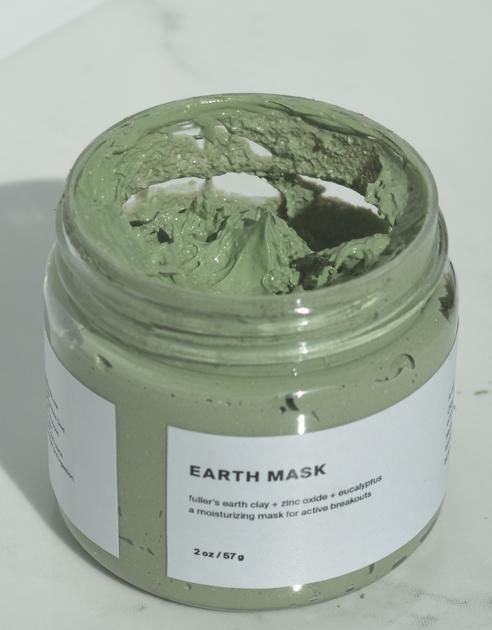 What is a French Green Clay Hair Mask?
A French Green Clay Hair Mask is a hair treatment that uses French Green Clay as its main ingredient. Known for its detoxifying and mineral-rich properties, French Green Clay is highly absorbent and works effectively to remove impurities, oil, and dirt from both the skin and hair.
The mask is applied liberally to the hair and scalp, allowed to sit for 5-15 minutes, and then rinsed out thoroughly with water. It's usually used 1-2 times a week. When applied to the scalp and strands, the clay helps to balance oil production, cleanse the hair, and revitalize dull, lifeless locks.
Rich in minerals like silica, magnesium, and calcium, it also nourishes the hair, promoting strength and elasticity.
French Green Clay Benefits
Using a French green clay hair mask can help remove impurities from the scalp, reduce oiliness, improve hair shine, support hair growth, and enhance overall hair health. The cleansing and detoxifying effects may be beneficial for those with oily hair or dandruff!
How to DIY Make a French Green Clay Mask
To make a French green clay hair mask, the clay powder is combined with water or other ingredients like apple cider vinegar, aloe vera gel, or essential oils to form a thick, spreadable paste.
A DIY mask can be easily made by mixing the clay with water or a hydrating ingredient like aloe vera, then applying it to the hair for a set period before rinsing. The result is often a refreshed, rejuvenated scalp and more vibrant, healthy-looking hair.
You'll need French Green Clay, which is the star of this mask. Optional additions could include aloe vera gel for hydration, a few drops of essential oils like lavender or rosemary for fragrance, and apple cider vinegar for added shine.
Here is a step-by-step guide to making your own French green clay hair mask at home.
Ingredients:
2 tablespoons French green clay powder
1 tablespoon apple cider vinegar or lemon juice
1 tablespoon olive oil or coconut oil (optional)
2-4 tablespoons water
Steps:
Gather the ingredients and a small non-metal bowl and spoon to mix the mask. Make sure your workspace is clean and you have a bowl and spoon (preferably wooden or plastic to prevent any reaction with the clay).
Add the French green clay powder to the bowl first. Then add the apple cider vinegar and lemon juice and mix well. The acidity helps activate the clay.
Add the oil if using for extra moisturizing benefits. Olive or coconut oil works well.
Slowly mix in the water, 2 tablespoons at a time, until a smooth, thick paste forms. Add more water if needed.
Test Consistency: The mask should be thick enough to adhere to your hair but not so dense that it's difficult to apply. Adjust the liquid or clay as needed.
With your hair damp and detangled, apply the clay mask liberally from roots to ends of damp, freshly washed hair. Use the spoon or your fingers to coat hair thoroughly.
Leave the mask on for 10-20 minutes. For thicker hair, you may want to leave it on for 20 mins. You don't want it to completely dry, as that can be difficult to rinse out.
Rinse the mask out thoroughly with warm water until the water runs clear. Make sure to rinse well and remove all residue, as any left behind can lead to dryness or irritation.
Optionally, you can give your hair a final rinse with cool water or a diluted apple cider vinegar solution to close the hair cuticles and add shine.
Use the hair mask 1-2 times per week for best results. Adjust recipe quantities as needed for longer/thicker hair.
Voilà! You've just treated your hair to a rejuvenating French Green Clay Hair Mask, right in the comfort of your home.