If you love your skin and you're as religiously devoted to finding high-quality skincare products from France as we are, you'll love the French brand Clarins' products.
Clarins is a luxury French beauty and skincare brand with dozens of high-quality, premium skincare and makeup products available. Clarins' wide range and natural ingredients will cater to all skin types, even sensitive skin.
According to the reviews left on Sephora, Nordstrom, and the Clarins website, the brand's best products all have a high satisfaction rate and proven results.
To learn more about this brand and the fantastic options they have to offer, keep reading for a full review of Clarins' brand and best-selling products.
Clarins Brand History
Clarins is a luxury French skincare brand started in 1954 by a masseur named Jacques Courtin. He began by formulating treatment oils and selling them in his salon located in Paris.
Courtin marketed his products by saying that they would firm, rejuvenate and plump the skin. At the time, his products were relatively new to the market, and thus, he generated a lot of support from both the local community and French celebrities.
Courtin once played a character in a school production, and he believed the character's name was a symbol of good fortune and luck. The character's name? Clarins. That's how the brand's iconic name was formed. Later in life in 1978, Courtin even had his name legally changed to Jacques Courtin-Clarins.
By 1980, Clarins was the most popular luxury skincare brand in France. The company expanded to the US in 1981, and by the year 1990, it was the top-selling brand in Europe.
Today, Clarins is distributed to 150 countries worldwide.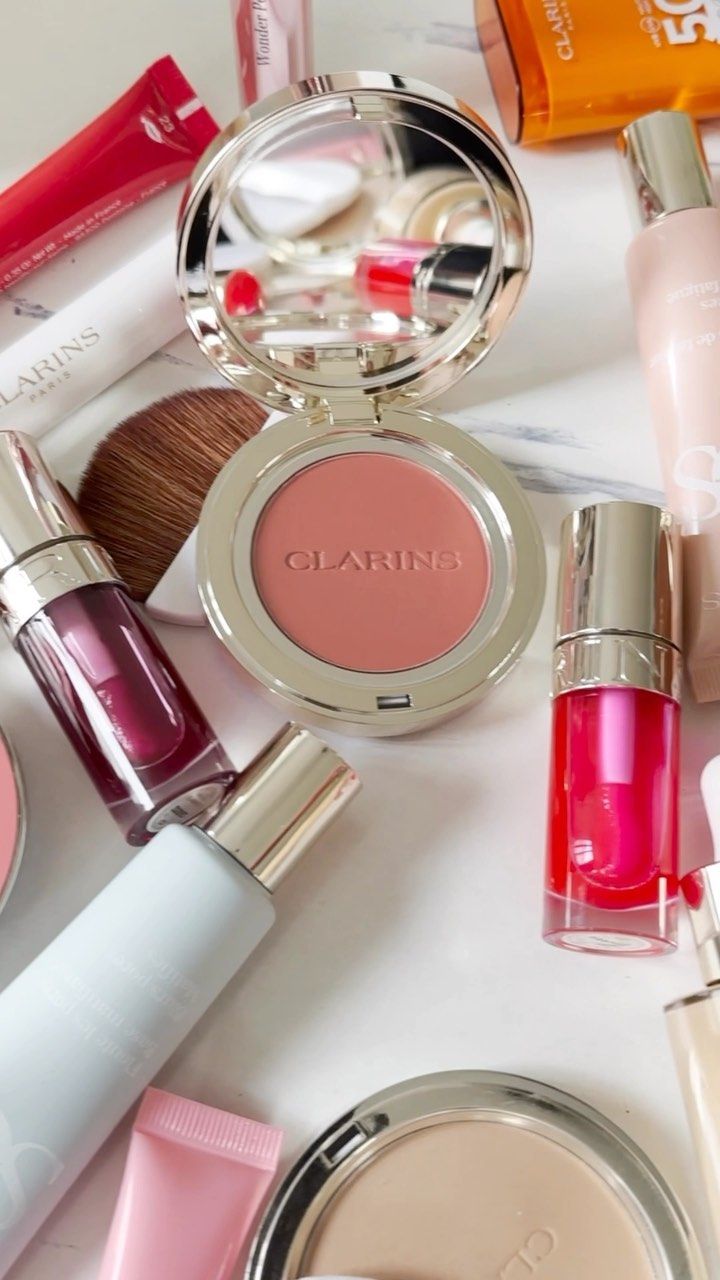 Best Clarins Products
This comprehensive review offers a list of the best Clarins products. My goal is to assist you in finding some of the best makeup and skincare products available from the brand.
Where can I buy Clarins products in the USA? Clarins products can be bought from Sephora, Nordstrom, Ulta, Macy's, and on the brand's US website.
1. Double Serum
Clarins Double Serum is one of the best-selling anti-aging serums from France. In fact, one is sold every eight seconds!
This serum claims to address various issues, from fine lines and wrinkles to dark spots and puffiness. However, there isn't much that compares to the Double Serum, and it claims results in as soon as a week.
Clarins Double Serum is suited for all skin types and may be used by anybody, even those with sensitive skin or people who wear contact lenses.
Additionally, this is a must-try if you don't use an anti-aging serum or haven't found one that you enjoy yet.
If you're not a patient person, you'll like this fact: Clarins claims that serum will leave the sensitive skin on the face nourished, firmer, smoother, depuffed, and dark spots diminished in only seven days.
Buy this French serum from Sephora, Ulta, Amazon, or from Clarins directly.
2. Total Lift Concentrate Eye Cream
Clarins Total Lift Concentrate Eye Cream is the epitome of luxury for eye creams. The creamy texture absorbs quickly into the skin and does not leave a greasy residue. The under-eye areas, on the other hand, feel moisturized and revitalized. 
The recipe is equally as stunning as how it feels on your skin. It contains anti-aging chemicals that help to reduce dark circles and wrinkles and make your skin feel tighter.
Caffeine is incorporated into the cream, which increases the composition's efficacy. In addition, this lotion hydrates the skin and gives it a healthy glow.
People with normal, oily, combination or dry skin will benefit from this product. The Clarins website states that this cream is also suitable for women with sensitive skin and those who wear contact lenses.
If you have dark circles under your eyes or maybe a few crow's feet creeping in, you may benefit from this product. Clarins promises noticeable results within sixty seconds of using this cream, and their website shows a satisfaction rate of over 80% among their customers.
3. Extra-Firming Energy Day Cream
The Extra-Firming Energy Day Cream Moisturizer formula is filled with outstanding chemicals and complexes, drawing on Clarins' 35 years of skin-firming experience. This 2-in-1 treatment combines Clarins' firmness expertise with a radiance cream's boosting impact.
The moisturizing cream combines superfruits to help skin restore its natural brightness and vigor. Organic leaf of life is included for hydration and organic extracts of kangaroo flower and Mitracarpus for a natural spring sensation. The ingredients function together to boost collagen production and firmness in the skin.
The moisturizer works well for all skin types, although it was created for women in their forties.
This day cream has it all for super-active, often-overwhelmed women. Extra-Firming Energy is ideal for older ladies since it helps restore skin firmness and produces a revitalized, radiant appearance.
Because of its creamy texture and fresh, energizing aroma, each application gives a dose of well-being and a sensory experience, so you'll feel the spring in your step and on your skin in no time.
4. One-Step Gentle Exfoliating Cleanser With Orange Extract
Clarins One-Step Gentle Exfoliating Cleanser with Orange Extract is a spa-inspired facial cleanser that removes makeup, buried pollutants, and wasted surface cells in one quick step to reveal the radiant skin underneath. 
The biphase scrub cleanses and exfoliates the skin, gently eliminating everything that dulls it and leaving it smooth, soft, and radiant. The exfoliating scrub leaves skin feeling smooth and rejuvenated.
This exfoliating cleanser is suitable for all skin types.
You may use this mild cleanser on a regular basis to cleanse and rejuvenate your skin, whether morning or evening. As a result of its perfect formula, your skin will feel revitalized and refreshed.
The cleanser is gentle and easy to apply; the grains are hardly noticeable yet effectively wash and exfoliate the face. It's ideal for everyday usage in the summer when the weather is hot and humid, and your face needs light exfoliation. It has a nice but not overpowering aroma.
5. Hydrating Toner For Normal/Dry Skin
The Clarins Hydrating Toning Lotion helps balance the microbiome of the skin, which is the population of organisms that dwell naturally on the skin's surface. As a result, having a well-balanced microbiota keeps the skin looking fresh, moisturized, and healthy. 
Clarins Hydrating Toning Lotion maintains a well-balanced skin flora and increases the skin's ability to retain water as it sweeps away any leftover cleanser. You'll adore this moisturizing update if you like Clarins' normal/dry skin toning lotion.
This product, suitable for women of all ages, adopts a fresh, green approach by removing superfluous packaging and focusing on natural ingredients; the formula is made with organic plants and is free of colorants.
The lotion has a light, refreshing texture that leaves skin feeling soft, moisturized, and comfortable. Clarins' moisturizing toner has an appealing floral scent that will ensure that you feel revitalized at the end of the day.
6. Hand And Nail Treatment Cream
Clarins luxurious Hand and Nail Treatment Cream is an emollient-rich treatment that produces an invisible protective "glove" around the hands, shielding them from the environment and reducing the appearance of wrinkles.
Dry, chapped, irritated skin is softened and comforted with this lotion. It also helps to naturally strengthen nails and condition cuticles for younger-looking hands.
The cream itself is nice and rich, but it does not leave a greasy residue behind, unlike other popular hand creams. The aroma is orange like it is with other Clarins products, which is enjoyable. This long-lasting scent is perfect for long days.
You can use this hand cream every night before bed. Customers saw a lot of improvement in the skin texture of their hands. Reviews also show that most users of this cream report improved nail growth.
This cream absorbs quickly, leaving your hands feeling silky and smooth without that undesirable oily feeling.
7. Lip Comfort Oil
The Clarins Lip Comfort Oil, which comes in three permanent hues, is one of the most nourishing, soothing, and pleasant lip care products. In addition, it has a gel consistency that is neither greasy nor sticky, which is excellent news if the "oil" aspect of the product name puts you off.
The color in this collection is designed to be very subtle, and most of the lip tints have no color at all. In addition, users report that their lips are much less dry as a result of using this product.
This lip oil is plant-based to ensure that your lips are cured and hydrated.
---
Overall, Clarins is an amazing luxury French skincare brand that I highly recommend trying in the US or France!