When you think of French beauty, images of effortlessly chic Parisian women with radiant, flawless skin might come to mind. And, of course, behind that je ne sais quoi glow is often a trusted line-up of skincare and makeup products that have stood the test of time.
Today, I want to delve deep into one of France's most iconic and beloved beauty brands: Clarins. While this brand has garnered international fame, there are some products that particularly capture the hearts of French women.
Whether you're looking to achieve that timeless French beauty or simply curious about the go-to picks from this renowned brand, buckle up, mes chéries, as we explore the best of the best of Clarins that every French femme swears by!
Clarins Brand
Clarins, a name synonymous with luxury skincare and cosmetics, was founded in 1954 by Jacques Courtin-Clarins in Paris, France. With a strong belief in the importance of well-being and the connection between mind and body, Courtin-Clarins opened his first beauty spa and created a line of plant-based treatment oils. His innovative approach to skincare was grounded in the understanding of the natural and therapeutic properties of plants, focusing on treatments that were not only effective but also pleasurable to use.
Clarins has evolved into a global brand, renowned for its commitment to responsible beauty and environmental stewardship, offering a wide range of products that combine the traditional wisdom of botanicals with modern innovation. The brand has remained a family-owned enterprise, preserving its unique French flair, and is a go-to choice for the ultimate in skincare and beauty.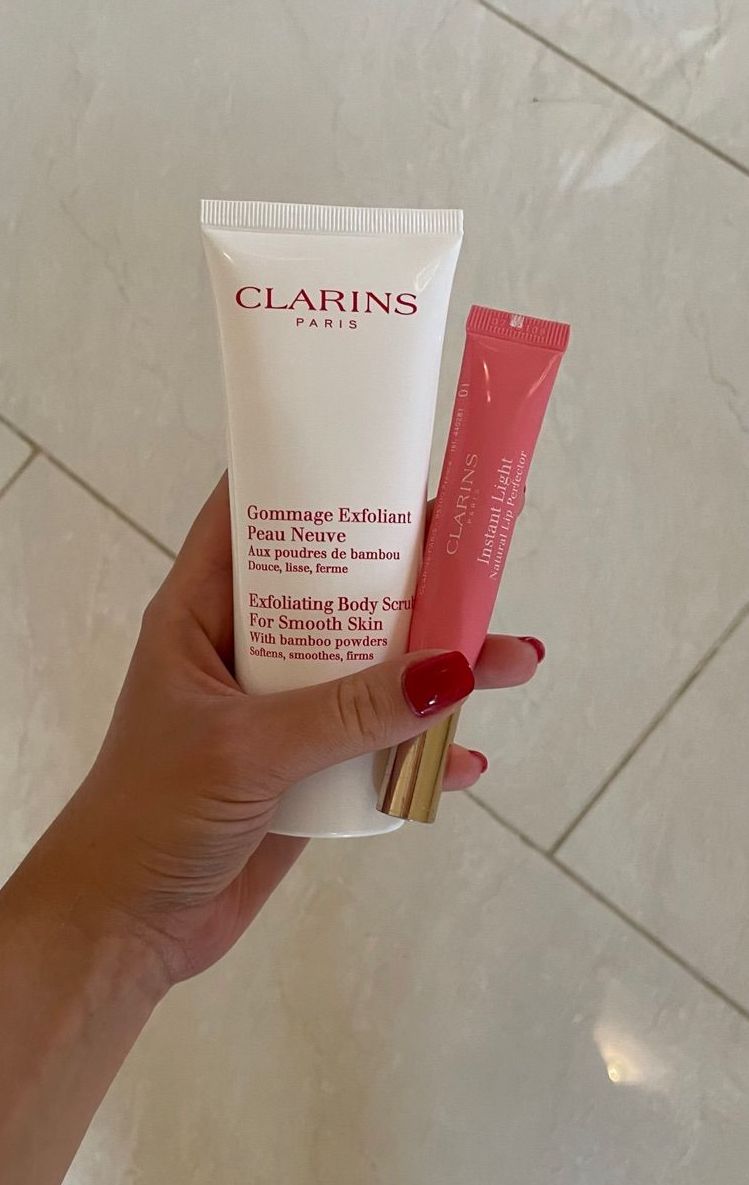 Best Clarins Skincare Products
The Double Serum Firming & Smoothing Anti-Aging Concentrate is a powerhouse skincare product, fusing two potent serums in one, designed to give the skin a firmer and more youthful appearance.
If you're in search of the perfect remedy for the delicate eye area, the Total Eye Lift Firming & Smoothing Anti-Aging Eye Cream offers an intensive treatment, targeting fine lines and puffiness, leaving eyes looking rejuvenated.
Dive into a sensory cryotherapy experience at home with the Cryo-Flash Instant Lift Effect & Glow Boosting Face Mask; this icy-cold mask not only uplifts the skin but also imparts a luminous glow, making it perfect for pre-event pampering.
Focusing on eye-specific care, the Double Serum Eye Firming & Hydrating Anti-Aging Concentrate marries the benefits of hydration and firming to revitalize the eye area beautifully.
The One-Step Gentle Exfoliating Cleanser with Orange Extract is a delightful fusion of cleansing and exfoliation, with zesty orange extracts that help brighten and refine the skin's texture.
Transition to the Gentle Renewing Foaming Cleansing Mousse for a lush, foamy experience that thoroughly cleanses the skin, revealing a softer, renewed complexion.
For deep hydration, the Hydra-Essentiel Intensive Hydrating Bi-Phase Serum comes to the rescue, quenching thirsty skin with its dual-phase formula, ensuring maximum moisture retention.
Lastly, do not neglect those hands! The Hand & Nail Treatment Cream is a must-have for nourishing both hands and nails, keeping them soft, protected, and impeccably manicured.
Best Clarins Makeup Products
The Clarins Lip Comfort Oil is an oily lip coloring product that gives your lips a glossy finish while using the power of oil to hydrate your lips. It's been one of Clarins' best-selling makeup products for years.
The Lip Comfort Shimmer Oil is more than a gloss; it's a nourishing treatment for your lips, giving them a kiss of shimmering color while hydrating and softening.
If you're after a lasting and bold lip color, the Matte Water Lip Stain offers an intense, weightless stain that stays put all day without drying the lips.
For a plumper, smoother pout, the Natural Lip Perfector glides on to give a sheer tint of color and a silky finish that enhances your lips' natural beauty.
Embrace a touch of French elegance with the Joli Rouge Satin Lipstick, a rich and creamy formula that delivers luxurious, satin-finished color in a single stroke.
The Everlasting Long-Wearing Full Coverage Foundation lives up to its name, providing impeccable, long-lasting coverage that withstands the day's demands without settling into lines or looking cakey.
Pair that with the Instant Smooth Perfecting Touch Makeup Primer, a magic formula that fills in fine lines and pores, creating a flawless canvas for makeup application.
For the ultimate finishing touch, the Supra Volumizing & Lengthening Mascara promises to take your lashes to new heights, adding both volume and length for a standout, glamorous look that completes any makeup ensemble.