Caudalie is the most respected French 'clean beauty' brand for many years now. French girl skincare is all about using non-toxic ingredients and a simple routine to care for your skin – values that Caudalie encompasses to a T. In this Caudalie review, I'll share some background behind the brand as well as some top Caudalie products!
Caudalie Review
The concept behind the Caudalie brand stems from utilizing the active ingredients in grapes grown on vineyards in the countryside of France. Working with a polyphenols expert, Caudalie founder Mathilde Thomas used grape seed extract to build the brands' first formulas back in 1995.
Thomas' natural approach to beauty caught on and Caudalie quickly became one of the most sought-after French skincare brands around the world.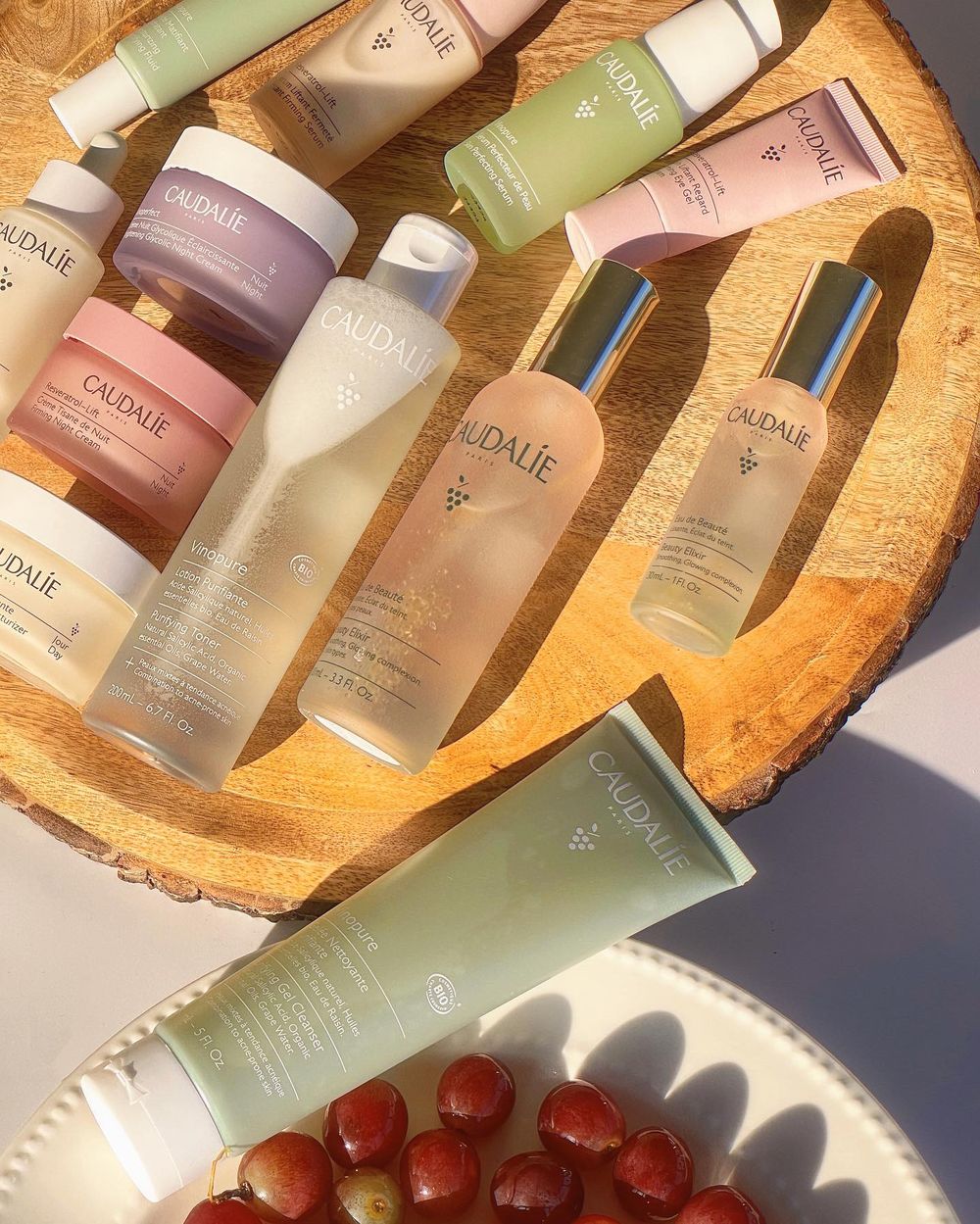 Caudalie Products
What are the best Caudalie products to try? From serums to masks and facial cleansers, here are the most popular Caudalie products you must try if you're interested in natural French girl beauty. Most of these products can be found in a French pharmacy in Paris, but if you're shopping from the US, don't worry, I've included links to shop them online from your home!
Vinoperfect Radiance Serum
The Caudalie Vinoperfect Radiance Serum is crazy popular in France and abroad because of its outstanding anti-dark spot effects. The cult favorite Vinoperfect Radiance Serum has recently been reformulated to be even more effective, cleaner, and natural.
Its primary purpose is to correct any complexion abnormalities on the face. This miracle French serum minimizes the appearance of dark spots and brightens the skin. It is effective on all black spots and is safe for even the most sensitive skin types.
This serum has a delicate, green aroma that combines citron bloom, orange leaves, watermelon, and crushed mint. By regularly applying this serum, you may fix undesirable blemishes. Plus, you can feel good about buying its environmentally friendly packaging, making it safe for the planet to use!
This product is consistently mentioned on lists of the best skincare products from France.
Instant Detox Mask
The Caudalie Instant Detox Mask cleanses the skin of stressed city dwellers. Its 99 percent natural composition effectively removes pollutants and excess sebum from the skin. The skin's texture is noticeably polished, the pores are closed, and the complexion is even/radiant. It is a detoxifying clay facial mask that keeps pores clean and tight, removing lingering debris. Additionally, it absorbs and removes excessive oil from the skin. It is one of the top Caudalie products available since it is efficient while remaining mild on sensitive skin.
Beauty Elixir Face Mist
The Caudalie Beauty Elixir Face Mist is a natural face spray that instantly tightens pores, sets makeup, and tones the complexion for dewy, beautiful skin. This French face mist is cruelty-free, vegan, and devoid of synthetic chemicals, artificial perfumes, fillers, gluten, and genetically modified organisms.
It is recommended for normal, oily, combination, and sensitive skin types. It is a treatment for dullness, uneven texture, and porous skin. This cult-favorite vegan facial mist is multi-purpose: use it to tone, close pores, set makeup, and shine! It is suitable for all skin types, has a natural aroma derived from organic essential oils, and provides all-day refreshment.
Vinopure Purifying Gel Cleanser
This gel cleanser is one of the best Caudalie products. Caudalie Vinopure Gel Cleanser is the first and most critical step in your anti-blemish beauty regimen. It cleanses the face, tightens pores, and balances sebum production without drying out the skin, leaving your skin clean, fresh, and radiant. This face wash is vegan-friendly, sulfate-free, soap-free, alcohol-free, and fragrance-free. It is certified organic, has 99 percent natural components, and is non-comedogenic and non-photo sensitizing. You can rely on it to unclog and tighten your pores while also soothing and moisturizing the skin.
Lip Conditioner
The Caudalie lip conditioner is filled with nourishing grape seed oil and antioxidant grape polyphenols to preserve and soothe dry lips for an extended period of time. Its texture dissolves swiftly without leaving a greasy residue and moisturizes your lips. This lip balm is a favorite, so I had to include it in this Caudalie review!
This Caudalie lip balm has a beautiful orange aroma with a touch of vanilla gently perfumes the lips throughout the day, providing protection. It contains 99 percent natural ingredients and, like with other Caudalie products, has no parabens, phenoxyethanol, phthalates, or mineral oils. This lip balm moisturizes and restores lips, shields them from the elements, acts as an antioxidant, and leaves lips smooth and comforted
---
Caudalie is a natural French skincare company known for its Vinotherapie products. The company is well regarded for its skincare products made with grape and grapevine extracts and has recently expanded to include Vinotherapie Spas. The best Caudalie products are widely accessible and affordable to most people. This list of the best Caudalie products is a great place to start if you want to give the brand a try.
Caudalie is a time-tested clean French beauty brand in the skincare sector. Its innovative formulas using organic and natural ingredients set it apart from other chemical-based brands. Caudalie provides the world with hundreds of products that address dozens of skin conditions, including acne, wrinkles, aging, sun spots, lack of hydration, and irritations. Whatever your needs, you can trust Caudalie!
I hope you found this Caudalie review useful!