The French girl aesthetic is all about enhancing your natural beauty with minimal effort. In today's post, I will be sharing the classic French girl makeup routine – a timeless look that embodies French chic and elegance.
This look is perfect for recreating the everyday French girl makeup look and can easily be adapted for both day and night. The focus is on accentuating your best features with just a few key products.
The American makeup must-haves are usually optional, and the goal is healthy, glowing skin. A touch of mascara, blush, and lipstick is all you need to achieve that effortless Parisian polish.
The French girl makeup routine may seem simple, but it's about quality over quantity. Invest in a few luxury cosmetics and take the time to apply them properly.
Follow these tips and you'll master the art of French girl beauty. Stay tuned as I walk you through the steps and reveal the ultimate French girl makeup routine. Let's add a touch of Parisian chic to your daily look!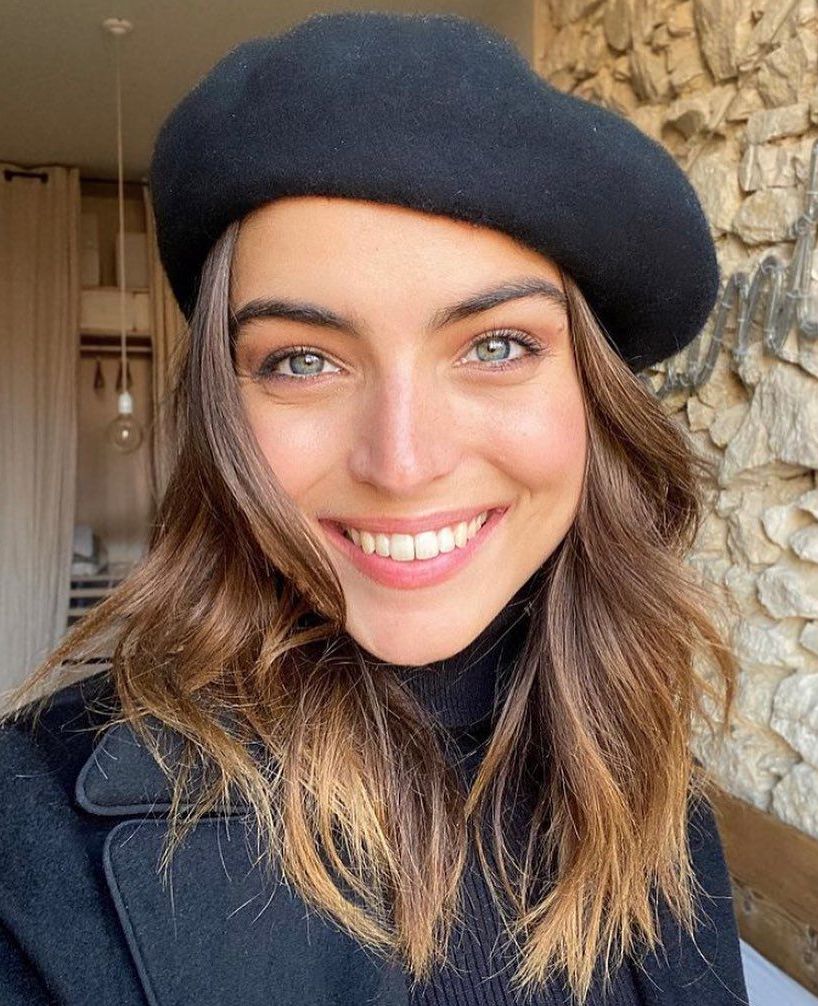 Start with Skincare
The foundation of the French girl makeup routine is immaculate skincare.
The key to the effortless French girl makeup look is glowing, healthy skin. Begin your day by cleansing the face with a gentle cleanser like Avène Cleanance Cleansing Gel in the morning to prep the skin. Follow up with a face serum with ingredients like hyaluronic acid to hydrate and plump skin.
Get yourself a good pharmacy face cream like Embryolisse Lait-Crème Concentré moisturizer which also works as a makeup primer.
Don't forget to apply a high-SPF face sunscreen like the La Roche-Posay Anthelios Ultra Light Fluid Face Sunscreen known for its lightweight formula.
Prepping your skin is crucial for achieving that effortless French beauty look.
Sheer Foundation or Tinted Moisturizer
French makeup focuses on letting your skin shine through. Avoid heavy, full-coverage foundations. Instead, opt for a light foundation like Chanel Vitalumière or a tinted moisturizer that evens out skin tone but still lets your natural luminosity shine through.
Bourjois Healthy Mix Foundation is a budget choice for a radiant, natural finish. If you prefer a tinted moisturizer, Laura Mercier Tinted Moisturizer offers a light, breathable coverage.
Any of these foundations will get you a chic no-makeup look. Always blend the foundation down to the neck to avoid visible lines.
Use concealer sparingly and only on areas that need it, like under the eyes or on blemishes.
Keep Eyebrows Natural
The French beauty ideal leans toward embracing your natural features, and this extends to your eyebrows. Rather than opting for a bold, heavily filled-in look, keep your brows natural.
Use a light touch with a brow pencil like Chanel Crayon Sourcils to fill in any sparse areas. Brush them upwards with a spoolie for a more open-eyed look.
Your goal is to complement your natural brow shape, not redefine it. Full, bold brows frame the face. Avoid over-plucking or going too thin.
One Swipe of Mascara on the Eyes
When it comes to eye makeup, the French girl makeup routine generally incorporates just a bit of mascara for a bit of definition. Dior Diorshow Mascara is a popular choice for its ability to lengthen and volumize lashes without clumping.
Concentrate on the upper lashes and brush them up and out. Don't overdo eye makeup during the day. Apply just one or two coats to keep it minimal and elegant.
Eyeliner is optional, but if you choose to wear it, a soft, smudged line along the lashes adds a sultry touch without looking overly dramatic.
Subtle Blush
Sweep a touch of pinky nude blush like Dior Rosy Glow Blush on the apples of the cheeks for a soft, healthy flush. Blend up toward temples for a diffused glow. Go light-handed to keep the look natural.
Nude or Pink Tinted Lip Balm
Complete your French girl makeup routine with a swipe of a hydrating tinted lip balm in a nude or pink tint.
Brands like Clarins offer Instant Light Natural Lip Perfector, a gloss balm hybrid that provides both hydration and a hint of color.
For a more pigmented finish, Dior Lip Glow is an excellent choice. Its formula adjusts to your natural lip color, offering a personalized tint while keeping your lips moist and supple.
---
Et voila! You just did the perfect French makeup routine. I hope it makes you feel chic and beautiful à la française. By the way, don't forget to always remove makeup fully at night with Bioderma micellar water!