There is certainly no shortage of amazing French beauty products, but what are the best French haircare brands? Honestly, that's a tough one. With so many clean, cruelty-free, paraben-free, and chemical-free products on the French market, it can be hard to choose, so we went ahead and gathered, researched, and reviewed all of the best French haircare companies out there for you!
These companies are responsible for creating the French-made hair oils, shampoos, treatments, and conditioners we all know and love.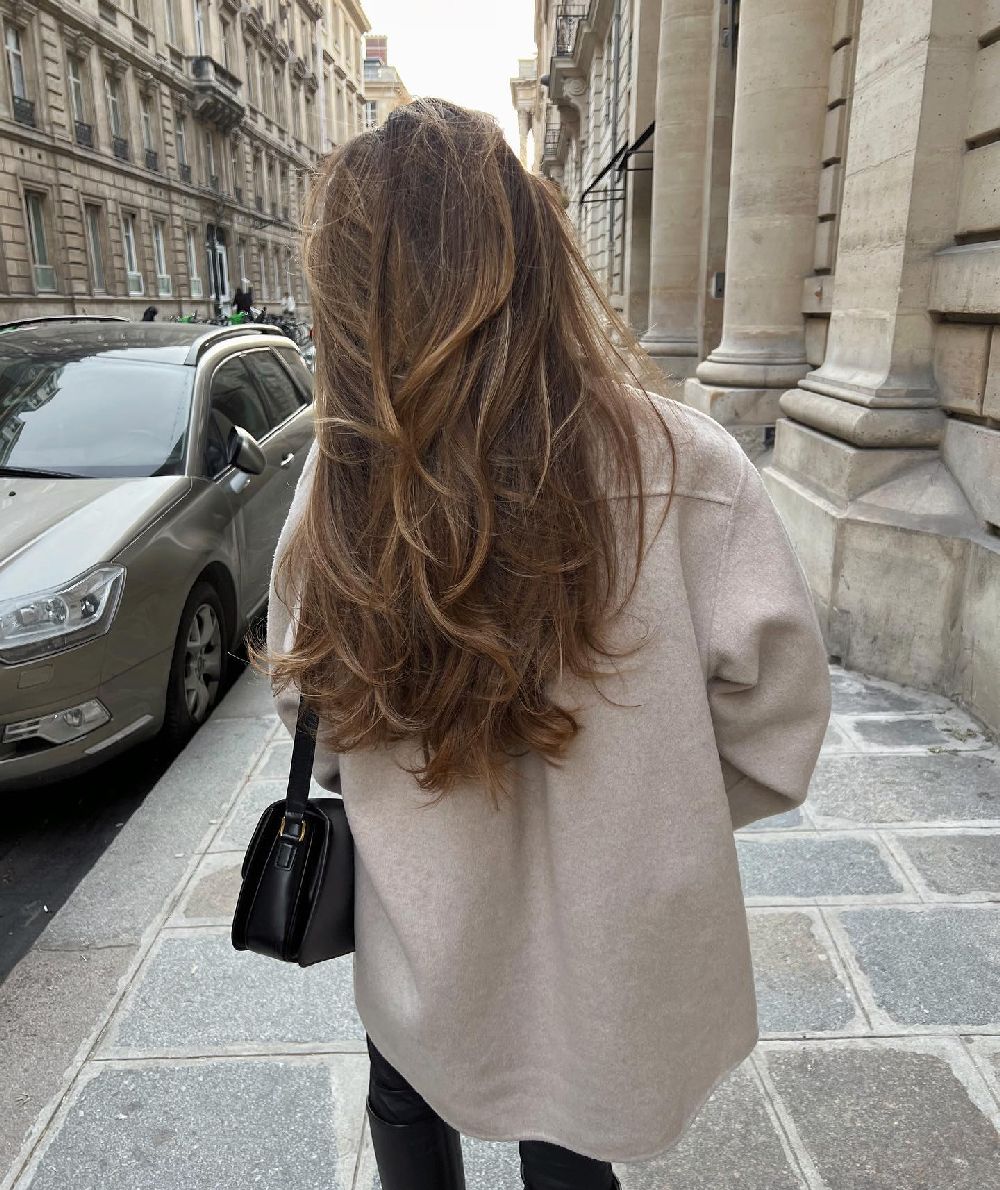 Christophe Robin
Christophe Robin is definitely top of the line for the best French haircare brands and products. It is best suited to colored and highlighted hair. From its luxury shampoo lines, color rejuvenation, and loving respect for a good curl regimen, the brand has something for everyone. If you don't want to spend time building your own, custom bundle for your own hair needs, the brand has professionally curated bundles of its best products already gathered for you. Just decide what your greatest need is and go!
If there's one product you must try, it's the French girl favorite Christophe Robin Purifying Scrub with Sea Salt which works to detoxify hair and give you the ultimate scalp scrub. If you live in a big city with pollution, this scrub is a must!
Christophe Robin's product line also includes color care. If you have a precarious color, such as a blonde that tends to go brassy, Christophe Robin has a purple shade mask product for you. From bold purple shampoos to take you back to white blonde, to creamy carrot-colored gels for red hair, to blues to help out brunettes, Robin surely has a toner mask for you. It's the perfect once-a-week or so pickup for in-between salon visits!
René Furterer
René Furterer is next on our list as one of the best French haircare brands. While they too have a large amount of color-correcting products, they are best known for their corrective products, especially the Triphasic thinning hairline treatment for both men and women. This regimen focuses on the different types of hair loss, the hair growth process, and scientifically-backed products to help you recover your thick locks, including vitamin supplements to take in addition to their scalp-focused shampoo, conditioner, and serums. This is definitely the line for you if you want if you suffer from thinning hair, whether it's because of age, pregnancy, or even stress.
In addition to their infamous and extensive thinning hairline, there are also cult classics to consider. These products include René Furterer's scalp care serums, thermal protection sprays, and masks. All of these products come highly recommended and rated by their users and can be added to any hair care routine.
Leonor Greyl
Leonor Greyl from Paris is one of the best French hair care brands, and they're known for their "hair concierge" service. This service, which can be found on their website, allows users to submit an inquiry to talk to a professional advisor regarding their hair care needs. This personalized touch to their products makes it so easy to figure out exactly what you need, which is amazing because sometimes we can find ourselves down a rabbit hole of product information. We all reach that point where we just need to ask for help, and the "hair concierge" does that.
As far as their products go, Leonor Greyl has lines for every need–from dandruff treatment to the ever-important curl control. Their best sellers include a pre-shampoo treatment for dry hair, scalp oils, conditioning treatments, an assortment of shampoos, and finally, heat-protecting styling cream and serum.
Kérastase
Kerastase is another of the best French haircare brands. They're growing in size and you can even find Kerastase salons in major US cities like New York and Chicago. Check out the Featured Salons on their website to find out if there's one near you!
After you get your hair done with their professional products, you can easily order shampoos, conditioners, and styling products from their site. If you haven't been able to consult a stylist, you can do so on their website very easily, or you can just look at their collections. Their "Curl Manifesto" and "Blond Absolu" are just 2 of their specified hair care routines for anyone and everyone!
Klorane
Klorane prides itself, like many of the best French hair care brands out there, on its botanically-based products. Their line started about 50 years ago in 1966, and their name, Klorane, means "the perfect union of science and plant heritage creating effective, innovative products that respect both nature and people."
This name holds true throughout all of their offerings, and their best seller is their famous dry shampoo! Who doesn't love dry shampoo? It's definitely a staple item for every woman, and Klorane does it best.
If you don't know where to start (other than their dry shampoo, of course), you can browse their site according to your needs. They even have hair and skin supplements that can help you get everything in order from the inside out so your hair (and skin) can be the best, most healthy of your life. After all, French beauty is all about enhancing what you naturally have.
PhytoSpecific
PhytoSpecific (commonly referred to as just Phyto) is another botanically-based French haircare brand. This brand prides itself on its scientific approach to all-natural product lines. Some of their best sellers (and what they're known for) are their PHYTONOVATHRIX Ultimate Densifying Treatment, their dietary supplements, and their Phytodefrisant Anti-Frizz Blow-Dry Balm.
Phyto is a fantastic product line for anyone who wants clean beauty, as well as for anyone who prioritizes hair products that actually work from the inside out. Whether you are using the supplements for the biological approach, or the heat and frizz protection balms to protect your hair strands from the outside, you are sure to find a product you adore.
Lazartigue
Lazartigue, created by Jean-François Lazartigue in the 60s, was one of the first of its botanically-based kind to also offer personalized hair care treatments, absolutely earning them a spot as one of the best French haircare brands. French beauty norms have always been focused on using only what is minimally necessary to bring out the natural beauty every woman was born with, and this haircare brand fully embodies that cultural approach. These non-aggressive formulas help to correct hair issues gently without the use of harsh and damaging chemicals.
Some of the most popular Lazartigue products are Huile Des Reves (dry hair oil), the fuller hair serum, and the La Couleur Absolue, a permanent hair color dye. These products, among others, are highly rated and reviewed for how well they work, as well as how much they are worth.
Fekkai
Next on the list of best French haircare brands is none other than Fekkai. Fekkai is, yet again, a plant-based product line with vegan and cruelty-free options. The brand is also highly focused on sustainability, and therefore prides itself on 95% recycle-based packaging and ethically harvested ingredients. It has seen great success in the United States.
As far as the products actually go, Fekkai has no shortage of options for your haircare routine. Whether your hair is coarse, fine, thin, thick, straight, curly, blonde, or dark, Fekkai has a product for you! If you're not sure where to start, take their haircare quiz or just browse their best sellers.
The Apple Cider Detox Scrub is effective at cleansing the hair from built-up pollution. It stimulates and exfoliates the scalp while removing impurities. Say goodbye to sweat, pollution, hard water irritations, and more! This scrub will strengthen your hair and soothe your scalp with long-term, regular use.
L'Oréal
You cannot have a list of the best French haircare brands and not recognize L'Oréal. While the company owns 36 different brands (such as NYX, CeraVe, and Redken), they also have their own salon-worthy professional line of products that are world renown and second to none. L'Oréal has reliable styling, cleansing, and finishing products that one can find in most drug stores and beauty product stores across the globe.
L'Oréal's newest release to the hair care world is their Steampod. The Steampod combines a flat iron and a styler into one with innovative steam technology. With up to 91% less breakage (with the steam and plates alone, versus just the plates), you can style your hair faster and healthier. This can save on trips to the salon for that trim of the broken ends, as well as help you grow out your hair because it's not constantly being burned off. L'Oréal is once again revolutionizing the hair care world.
---
I hope you enjoyed this list of the top French hair brands!