Indulge with me in the luxurious world of Sisley Paris, where beauty transcends the ordinary and enters the realm of the extraordinary. With a blend of innovation, botanical expertise, and timeless French elegance, Sisley has become synonymous with top-tier skincare and makeup for a truly sublime experience.
This season, I'm delighted to guide my lovely audience through the best Sisley makeup and beauty products that have not only captured my heart here in the heart of Paris but are also making waves across the Atlantic.
From enchanting fragrances to rejuvenating skincare, prepare to explore what makes Sisley's lineup a must-have in every sophisticated beauty regimen. On y va!
A Quick Sisley Brand History
Sisley is a French cosmetics company that was founded in 1976 by Hubert d'Ornano. Renowned for combining botanical extracts with cutting-edge technology, the company quickly became a leader in the high-end skincare industry. Hubert's wife, Isabelle d'Ornano, played a crucial role in product development, contributing to the brand's unique approach to skincare.
Sisley's offerings expanded to include fragrances, makeup, and other beauty products, always maintaining a focus on quality and natural ingredients. Over the years, the brand has grown into a global presence, maintaining its reputation for luxurious and innovative products. The d'Ornano family continues to run the company, passing their passion for quality cosmetics down to the next generation.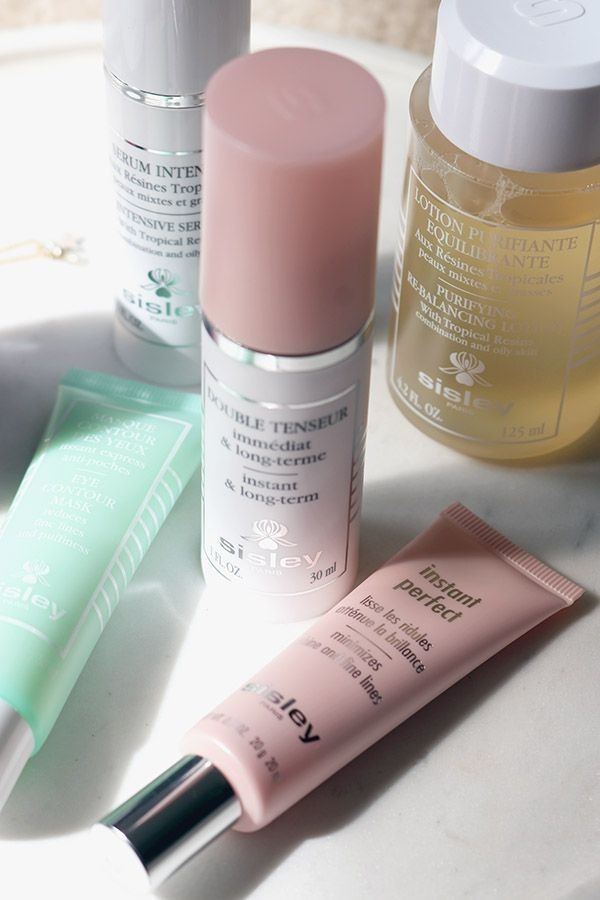 Best Sisley Makeup Products
The following are some of the must-have makeup products from Sisley that offer an incredible experience, combining the art of beauty with the essence of skincare.
Sisley Paris Phyto-Lip Twist
The Sisley Paris Phyto-Lip Twist is not just a lip color; it's a skin-loving experience that redefines what a lip product can be. This tinted balm, packed with nourishing ingredients, hydrates and protects your lips while giving them a vivid flush of color. Its pencil format allows for effortless application, delivering the perfect twist of color and comfort in a single swipe.
Sisley Le Phyto Rouge Lipstick
Indulge your lips with the Sisley Le Phyto Rouge Lipstick, an exquisite combination of intense color and hydrating care. With a wide spectrum of shades, this lipstick offers a velvety-smooth texture that ensures long-lasting wear. Its unique formula is enriched with comforting oils and ultra-pure pigments, making your lips look vibrant and feel utterly pampered.
Sisley Les Phyto Ombres Long Lasting Radiant Eyeshadow
Unveil your eyes' natural beauty with the Sisley Les Phyto Ombres Long Lasting Radiant Eyeshadow. Offering a stunning array of shades, this eyeshadow promises an ultra-sensory experience. It's easy to blend and stays put all day, allowing for the creation of both subtle and dramatic looks. Infused with naturally-derived extracts, it respects the delicate skin of the eyelids while enhancing your allure.
Sisley Paris L'Orchidee Rose Highlighting Blush
Illuminate your complexion with the Sisley Paris L'Orchidee Rose Highlighting Blush, a mosaic of three delicately colored shades that adapt to every skin tone. Formulated with botanical extracts, this highlighter not only imparts a fresh glow but also cares for your skin, offering a luminous finish that feels as good as it looks.
Sisley Phyto-Eye Twist All-in-One
Simplify your eye makeup routine with the Sisley Phyto-Eye Twist All-in-One, an innovative product that combines an eyeshadow, pencil, and eyeliner. Its creamy, waterproof formula glides effortlessly across the eyelids, providing vibrant color that lasts throughout the day. Whether you're aiming for a smoky eye or a subtle shimmer, this versatile product has you covered.
Sisley Paris So Intense Mascara
Create breathtaking lashes with the Sisley Paris So Intense Mascara, designed to volumize, fortify, and lengthen. Its innovative brush and intensely pigmented formula work together to coat every lash evenly, resulting in a stunning, intense black finish. Infused with vitamin-rich peptides, this mascara not only enhances your look but nurtures your lashes, too.
Sisley Paris Phyto-Teint Ultra Eclat Oil-Free Fluid Foundation
For a flawless complexion, turn to the Sisley Paris Phyto-Teint Ultra Eclat Oil-Free Fluid Foundation. This lightweight foundation blends effortlessly into the skin, providing an even and radiant finish. Its oil-free formula ensures long-lasting wear without clogging pores, making it suitable for all skin types. The natural extracts within offer a refreshing sensation, leaving your skin looking luminous and feeling cared for.
Sisley Sisleya Le Teint Anti-aging Foundation
Embrace a youthful glow with the Sisley Sisleya Le Teint Anti-aging Foundation. This innovative foundation is more than just a makeup product; it's an anti-aging treatment that enhances your complexion while targeting signs of aging. Infused with active ingredients known for their skin-rejuvenating properties, it offers a seamless coverage that doesn't settle into fine lines, ensuring a radiant appearance that lasts all day.
Best Sisley Skincare Products
Sisley's reputation extends beyond makeup, reaching the epitome of skincare innovation and luxury. The following are some of the remarkable skincare products that not only promise to enhance your beauty but provide essential nourishment and protection to your skin.
Sisley Black Rose Cream Mask
The Sisley Black Rose Cream Mask is a savior for tired, dull skin. Infused with the rare and precious Black Rose extract, this rich cream mask offers an indulgent experience, leaving the skin feeling revitalized and plump. In just a few minutes, it hydrates, smooths, and rejuvenates the skin, revealing a youthful and radiant complexion. It's truly a pampering retreat that can be enjoyed in the comfort of your own home.
Sisley Black Rose Skin Infusion Cream
The Sisley Black Rose Skin Infusion Cream takes hydration to a new level, creating a sensation of skin being "infused" with moisture. With an airy, silky texture, it allows for optimal hydration and promotes skin's ability to retain moisture. The unique combination of Black Rose extract, Alpine Rose, May Rose water, and other nourishing ingredients awaken the skin's vitality, ensuring a complexion that feels fresh, plump, and glowing.
Sisley Black Rose Eye Contour Fluid
For the delicate area around your eyes, the Sisley Black Rose Eye Contour Fluid offers an instant solution to puffiness, dark circles, and signs of aging. Its cooling massage applicator ensures a soothing experience while delivering the unique Black Rose extract and other vital ingredients like Black Rose extract, Padina Pavonica, and Red Vine right where they're needed. With regular use, the eyes appear more open, rested, and beautifully contoured, reflecting a youthful radiance.
Sisley Paris Sunleÿa Age Minimizing Sun Care SPF 50
Protection from the sun's harmful rays is a must in any skincare regimen, and the Sisley Paris Sunleÿa Age Minimizing Sun Care SPF 50+ provides just that, with a touch of luxury. This high-protection sunscreen not only shields your skin from UV rays but is also infused with active ingredients that combat the signs of aging. It's a perfect fusion of protection and care, leaving the skin supple, moisturized, and youthfully radiant.
Sisley Paris All Day All Year Cream
Ensure round-the-clock hydration and protection with the Sisley Paris All Day All Year Cream. This anti-aging day cream forms a protective barrier that guards against environmental stressors, including pollution and UV rays. Enriched with a blend of botanical extracts, it works tirelessly to maintain the skin's moisture balance and elasticity, keeping your complexion fresh and youthful, no matter what the day brings.
Sisley Paris Double Tenseur Moisturizing Gel
Achieve a lifted and toned complexion with the Sisley Paris Double Tenseur Moisturizing Gel. This innovative skincare product serves as an instant beauty booster, providing a tangible tightening effect. Infused with botanical extracts like Lemon and Oat seed, it not only moisturizes the skin but also creates a flexible mesh on the surface, acting like a second skin. Ideal as a makeup primer, it ensures a flawless application and a long-lasting, fresh appearance.
Best Sisley Perfumes
Sisley's line of perfumes is synonymous with luxury, elegance, and timeless charm. Among them, one stands out as an epitome of grace and allure.
Sisley Paris Eau du Soir Eau de Parfum
The Sisley Paris Eau du Soir Eau de Parfum is an ode to eternal femininity, offering a rich and complex scent that reveals its character in a beautiful symphony of notes. Designed to be both sophisticated and timeless, this fragrance opens with bright citrus and transitions into a heart of heady florals, grounded by warm, resinous base notes.
Its elegant bottle, crowned with a sculptural 18-carat gold-plated stopper, mirrors the quality and refinement of the fragrance within. Perfect for the evening, yet versatile enough for daytime, the Sisley Paris Eau du Soir Eau de Parfum brings a touch of Parisian luxury to every moment.
---
In the world of beauty, Sisley holds a special place, artfully merging French elegance with botanical brilliance. From the luxurious skincare treatments that rejuvenate and nourish to the makeup essentials that enhance and inspire, and finally, to the timeless perfume that encapsulates the essence of sophistication, Sisley's range of products is an invitation to indulge in the extraordinary.
Whether you're embracing the anti-aging marvels or painting your day with the colors of Sisley's enchanting makeup, you're not just wearing beauty; you're embracing a tradition of excellence that resonates with connoisseurs around the globe.
Experience Sisley, and step into a world where beauty is an art form, and you are the masterpiece.