Bonjour, mes beautés! Today, we're diving into the luxurious world of Kérastase, a luxury French brand that has been revolutionizing hair care since the 1960s! If you've been longing for that dazzling charm that seems to come effortlessly to French tresses, then you're in the right place. From pampering shampoos to transformative treatments, Kérastase offers a myriad of options suitable for all hair types.
Whether you're battling frizz, seeking more volume, or simply aiming to enhance your natural texture, this brand has something for you. I'll share the best Kérastase products that will give you that chic, salon-fresh look right at home.
About Kérastase
Founded in 1964, Kérastase originated as a luxury haircare line from the well-known cosmetics company L'Oréal. The brand quickly gained recognition for its focus on tailor-made, salon-quality treatments that address various hair concerns. Grounded in science and elevated by experience, Kérastase collaborates with professional hairstylists to bring the best formulations to the market.
The brand has expanded globally over time, becoming a staple in upscale salons and households alike. Known for its blend of cutting-edge technology and natural ingredients, Kérastase continues to set the standard for excellence in haircare. Emily Ratajkowski currently serves as the brand's ambassador.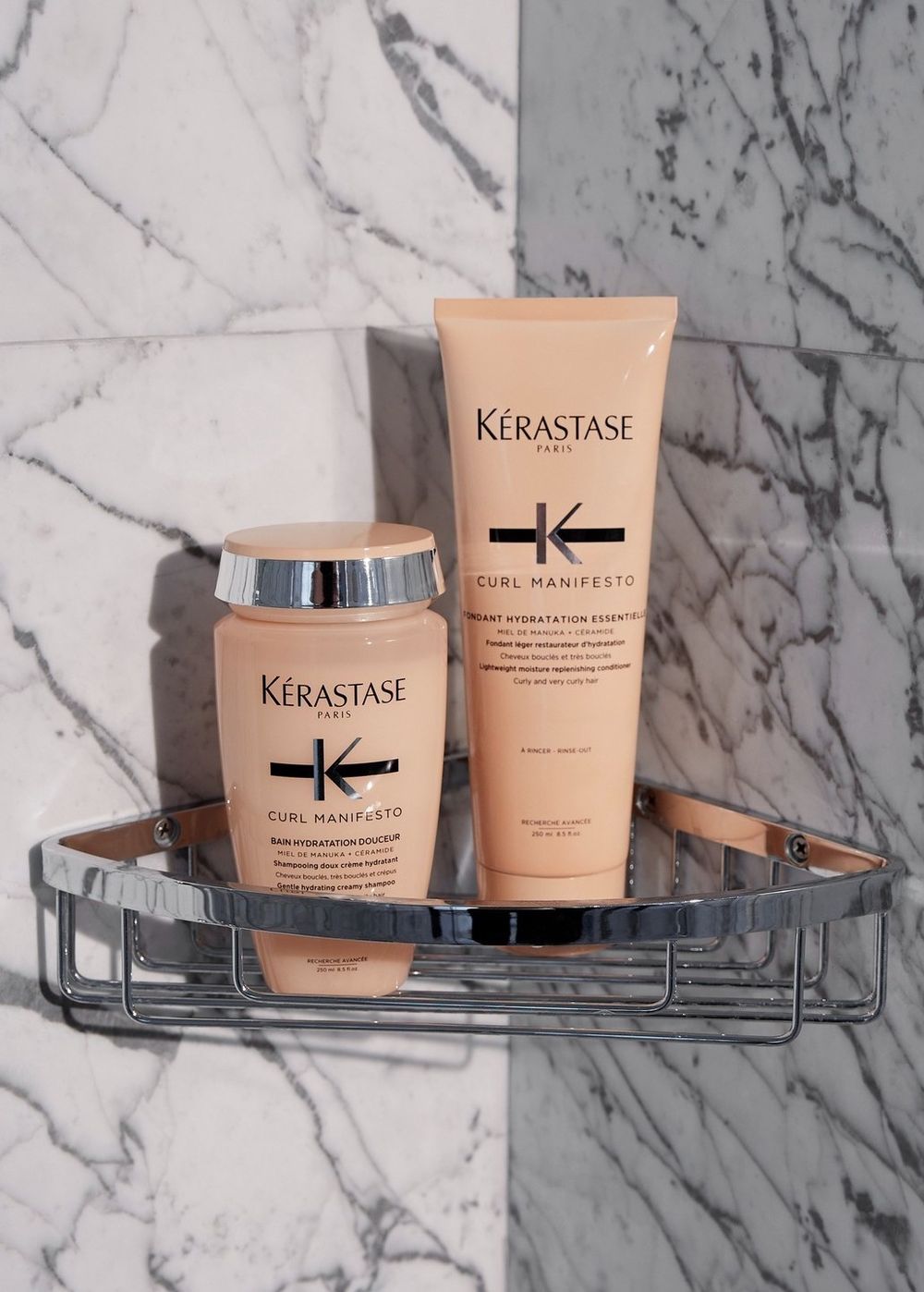 Best Kérastase Hair Products
Hair oil fans often turn to the Kérastase Elixir Ultime L'Huile Original Hair Oil for its multi-purpose benefits. Enriched with a rich blend of precious oils like argan and maize, it offers intense nourishment while adding a luminous sheen. This luxurious oil has garnered praise for its lightweight formula that can be used as a pre-styling treatment and a finishing touch.
Kérastase Discipline Bain Fluidealiste Smoothing Shampoo gently cleanses unruly, frizzy hair and helps smooth the hair fiber. It contains incell, a morpho-keratin, to help reinforce and realign hair fiber structure. This sulfate-free shampoo helps smooth and control frizz and flyaways. It leaves hair more supple, straight, and shiny.
For people plagued by thinning, lackluster strands, the Kérastase Densifique Bain Densité Bodifying Shampoo has been a game changer. This product employs hyaluronic acid and gluco-peptides to plump up hair fibers, giving a fuller appearance. It's popular among people with thin hair who want volume with softness and shine.
Kérastase Elixir Ultime L'Original Hair Masque is an indulgent hair mask that deeply treats even the most damaged hair to restore softness, shine, and manageability. It contains 4 precious oils like imperial orchid oil for nourishment. This mask replenishes nutrition and repairs dry, overprocessed hair, leaving it regenerated and velvety smooth.
The Kérastase Nutritive Bain Satin 2 Shampoo is an iconic product beloved by many for its deeply nourishing formula. Ideal for dry and sensitized hair, this shampoo utilizes irisome complex and glucose proteins to provide lasting hydration and vitality. It contains shorea butter and extra-nourishing lipids to replenish moisture, repair hair fiber damage, and protect from future damage. It leaves hair soft, smooth, and replenished without a greasy residue, making it a go-to choice for superior moisture and manageability.
When it comes to conditioning, the Kérastase Discipline Fondant Fluidealiste Conditioner stands out for its effectiveness in tackling frizz and unruly hair. Infused with amino acids and ceramides, this product smooths the hair fibers and provides a layer of humidity protection. It has become a favorite among users who want a salon-like sleek finish that lasts for days.
Kérastase Resistance Bain Volumifique Shampoo is a volumizing shampoo that helps add body and fullness to fine or thinning hair. It contains ingredients like ceramides to strengthen and repair hair fibers and give a thicker look and feel. This shampoo is popular for adding volume and bounce.
Kérastase Blond Absolu Strengthening Hair Oil is formulated to nourish and repair blonde and highlighted hair. It boasts nourishing oils like sunflower seed oil and apricot kernel oil to replenish moisture and softness. The oil helps strengthen fragile blonde hair fibers to reduce breakage, restore shine, and enhance the vibrancy of color.
Kérastase Résistance Ciment Thermique is a heat-protective blow-dry milk that is highly applauded for its dual-action repair and protection. It is specifically developed for weakened, brittle hair and contains Vita-Ciment to fortify the hair from within. The product also has a cult following because it significantly reduces blow-dry time, offering both convenience and less heat damage.
Kérastase Nutritive Nectar Thermique Polishing Milk is a smoothing heat protectant milk that leaves hair soft, shiny and frizz-free when using hot tools. It contains iris rhizome extract and thermo-reactive polymers to shield from high heat while locking in moisture and nourishment. This lightweight milk smooths and tames flyaways for a polished finished style.
The Kérastase Initialiste Advanced Scalp & Hair Serum is another star product that focuses on the health of both the scalp and hair. Featuring a unique blend of plant-based biotechnology, this serum encourages hair growth and reduces breakage. It targets the hair follicle, resulting in stronger, shinier, and more resilient locks, making it essential for overall hair wellness.
Kérastase Resistance Extentioniste Thermique Leave-In Cream is a leave-in cream that helps protect hair from heat damage up to 450°F/232°C. It contains thermo-reactive polymers that form a heat barrier while maintaining hair's flexibility and shine. This product helps minimize split ends and breakage when heat styling. It's ideal for frequently heat-styled hair. It's perfect before hot tool use.
Kérastase Chronologiste Bain Revitalisant Shampoo is an anti-aging shampoo ideal for mature hair lacking vitality and strength. It contains gluco-peptide to target signs of aging like thinning, breakage, and loss of density. This shampoo encourages regenerated hair, supple and shiny. It's perfect for reviving and strengthening aging hair.
Kérastase Specifique Bain Divalent Shampoo is a targeted solution for dealing with oily roots and dry ends. It's formulated to balance scalp oil production while nourishing the length of the hair. Its popularity stems from its capability to restore harmony to imbalanced hair, leaving it refreshed and rejuvenated.
For curly or wavy hair types, the Kérastase Discipline Curl Idéal Cleansing Conditioner is a must-have. This sulfate-free, one-step product cleanses and conditions in a single application, a big time-saver that doesn't sacrifice results! It's enriched with pro-keratin and elastin, ingredients well-known for enhancing the natural shape and elasticity of curls, making it popular among those seeking defined, frizz-free curls.
Another celebrated product is the Kérastase Nutritive 8H Magic Night Serum. Designed to work its magic overnight, this serum provides eight hours of intense nourishment for dry hair. Infused with iris root extract and five essential vitamins, it has been praised for its ability to transform hair by morning without the need for rinsing.
Last but not least, the Kérastase Blond Absolu Cicaplasme Hair Primer is a leave-in treatment specifically designed for blonde hair. It neutralizes brassy tones, provides heat protection up to 450°F, and adds a nice shine. It is especially famous for maintaining the integrity and hue of blonde hair, whether natural or color-treated, keeping it looking salon-fresh.