Women around the world are intrigued by the luxurious world of Guerlain, a brand that has been a cornerstone in the beauty industry for nearly two centuries. From their classic fragrances to groundbreaking skincare and exquisite makeup offerings, Guerlain embodies the epitome of French elegance and innovation.
Today, we're spotlighting the must-have products that capture the essence of this esteemed brand and promise to elevate your beauty routine to new heights. Whether you're a long-time devotee or new to Guerlain, this curated list aims to guide you through the best investments for radiant skin, captivating eyes, and an overall glamorous look. Stay tuned as we unveil the Guerlain gems you won't want to live without.
History of Guerlain
Founded in 1828 by Pierre-François Pascal Guerlain, the Guerlain brand has been a monumental presence in the international beauty market for decades. Originally starting as a small perfume store in Paris, the brand quickly gained fame and became the official perfumer to several European royal courts, including that of Queen Victoria of the United Kingdom and Napoleon III of France.
Guerlain has expanded its offerings to include skincare and cosmetics, but it remains most famous for its iconic fragrances like Shalimar, Mitsouko, and L'Heure Bleue.
The brand has always been a family-run business, passing from one generation to the next until it was acquired by the LVMH Group in 1994. Each generation of the Guerlain family brought its own flair and creativity, contributing to the brand's enduring reputation for quality and innovation. Master perfumers from Guerlain, often referred to as "noses," have been responsible for creating some of the world's most enduring scents.
Guerlain's commitment to luxury is evident in the ingredients they use and their attention to detail, from elegantly designed bottles to the experience offered in their boutiques and counters. Pioneers in sustainability, Guerlain aims to reduce its environmental footprint through eco-friendly packaging and sourcing practices.
Today, Guerlain remains a global symbol of French refinement and continues to push boundaries in high-end fragrance, skincare, and makeup. Its rich history and continuous innovation make it a go-to brand for those seeking timeless beauty and the ultimate in luxury.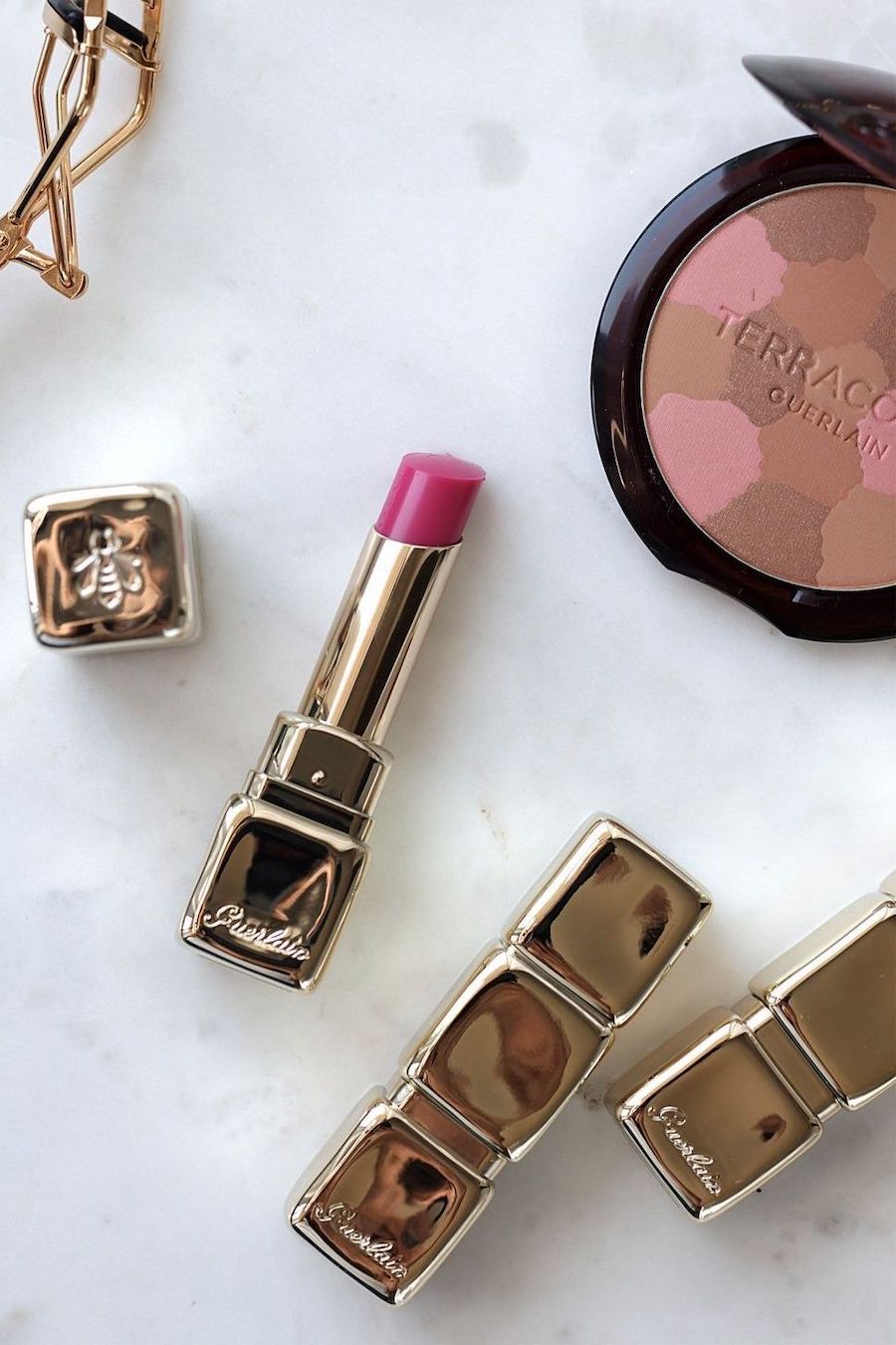 Best Guerlain Beauty Products
Here are 10 of the best Guerlain beauty products for women you should consider!
Guerlain Terracotta Bronzing Powder is a lightweight bronzer that leaves skin with a natural-looking sun-kissed glow. The powder contains a blend of bronzing pigments that warm up the complexion beautifully. It comes in several shades to complement different skin tones. The bronzer can be swept over the face for an all-over glow or used to contour.
Guerlain Abeille Royale Youth Watery Oil delivers an instant burst of hydration and restores radiance, suppleness, and firmness to the skin. Formulated with honey and botanical oils, it provides anti-aging benefits while leaving a smooth, non-greasy finish. The lightweight texture absorbs quickly into the skin.
Guerlain Rouge G Refillable Lipstick is a luxury cosmetic product designed to provide rich, long-lasting color to the lips. Its refillable feature makes it environmentally friendly and allows for customization, as you can switch out shades while keeping the same luxurious case. Formulated with nourishing ingredients, it often aims to keep lips moisturized and comfortable while offering high-impact pigmentation.
Guerlain Meteorites Light-Revealing Pearls of Powder is an iconic pressed powder that evens out the complexion and gives skin a radiant glow. The powder pearls contain illuminating pigments that help disguise imperfections and blur the look of fine lines and pores. This universal shade is perfect for all skin tones.
Guerlain Terracotta Le Teint Healthy Glow Foundation provides a fresh, dewy finish with light to medium coverage. It contains meteorite pearls that reflect light to create a soft-focus effect on the skin, blurring imperfections. The liquid foundation leaves a natural glow without looking shiny or greasy. It is suitable for normal to dry skin types.
Guerlain KissKiss Bee Glow Tinted Lip Balm provides a sheer, dreamy color and a creamy, comfortable feel on the lips. The lipstick balm contains hyaluronic acid spheres to deliver plumping effects and a subtle shine. With its elegant gold case, it makes a chic makeup statement. KissKiss comes in a wide range of shades from nudes to pinks.
GUERLAIN Noir G Volumizing & Curling Mascara volumizes, lengthens, curls and nourishes lashes in a single step. The mascara brush has wavy bristles to grip lashes from root to tip, fanning them out for maximum volume. The formula contains black honey ingredients to condition lashes to prevent breakage.
Guerlain Orchidée Impériale The Serum uses the power of imperial orchid molecular extract to help overcome signs of aging and fatigue. This advanced anti-aging serum deeply renews and firms the appearance of skin while reducing wrinkles and restoring radiance and vitality. Skin regains a youthful look and feels nourished.
Guerlain Parure Gold 24K Radiance Primer is an illuminating makeup primer that contains pure gold flakes to create brilliance and blur imperfections. The smooth, moisturizing texture fills in pores and fine lines before makeup application. Foundation glides on seamlessly over top. Skin looks visibly smoother and more radiant.
Guerlain Lingerie de Peau Natural Perfection Foundation is a cosmetic product designed to create a smooth, even complexion by covering imperfections and discolorations on the skin. Formulated to blend seamlessly, it aims to provide a natural-looking finish that mimics the appearance and texture of bare skin. It typically offers long-lasting wear and may contain elements like SPF for added skin protection.