You can't talk about French beauty without mentioning famous Parisian it-girl Jeanne Damas. The born and raised Parisian epitomizes the ultimate French girl beauty aesthetic. She started off sharing photos of her daily life on Tumblr, and quickly gained an international following of people curious about what it was like to be a young adult in Paris, France. She started collaborating with brands on fashion projects and creative shoots, further enhancing her status as a fashionable French woman.
After launching a successful fashion line several years ago, Jeanne decided to Launch a beauty line in tandem. The brand was originally called Rouje Beauté before changing its name about a year ago to Les Filles en Rouje.
What does Les Filles en Rouje mean? Well, Rouje is Jeanne's fashion brand, and it's a play on the word "rouge" which means the color "red" in French, Jeanne's favorite color. "Les filles en" means "the girls in" and that's referring to "the girls in Rouje," or the girls wearing Jeanne's brand – whether it be her clothing or beauty products.
Jeanne has never been shy about sharing her love for the color red. To her, it's the color that most embodies the feminine Parisian aesthetic that her brand conveys. 
The Rouje approach to beauty is one that uses selective colors to add interest to the face, while not overpowering it. It's about hiding who you are with makeup, and instead creating a sublime, unfiltered look of yourself using makeup. Many of the products are meant to be applied casually, using just your finger.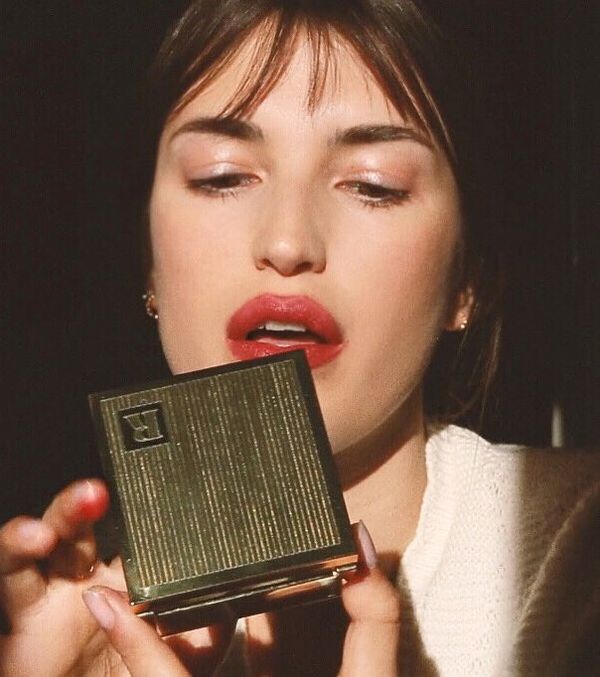 With subtle makeup products and bold lip color, the Les Filles en Rouje beauty line has everything you need for the perfect French girl makeup look.
Rouje Lips
If there is one signature product of the Les Filles en Rouje beauty product range, it's the lip colors.
The signature Lip Palette is a best-selling favorite. This is the one Rouje Beauty product you should buy if you can't decide what to get! It features a group of four different colors that are meant to be applied to the lips with your finger, but they can also be used to color the cheeks as well. This palette comes in different shade groupings so you can pick the one that suits your skin tone or the current season best. 
Rouje also makes a classic lipstick which gives you intense, long-lasting color on your lips in a typical lipstick case.
Le Velours is another popular lip product by Les Filles en Rouje. It's a creamy lipstick that comes with an applicator similar to lip gloss, but more bold.
Le Stylo is a lip color that you apply in a similar way to holding a pen and drawing the color on your lips.
The Balms are two tinted lip balm colors that help to hydrate the lips while giving them a slight tint.
Rouje Eyes
Rouje sells everyday mascara, eyeliner, and an eyelash curler for enhancing the look of your eyes. I have used the mascara before and I really like how it gives a light coat of mascara that really makes the eyelashes pop. It's not heavy at all, which makes it great for everyday makeup looks. The 70s style gold eye makeup packaging is beautiful to look at and easy to handle.
Rouje Face Makeup
The Rouje Face Palette offers three shades of eyeshadow, and three lip colors, great for on-the-go makeup touch-ups. Rouje also sells an "essentials" set which includes the La Palette Visage, the tinted moisturizing balm, and a pretty quilted red pouch to store your makeup. 
Rouje Skincare
The most recent addition to the Les Filles en Rouje beauty line is skincare. A face wash, Le Nettoyant, a face oil, L'Huile, and a face cream, Le Crème, are the three basic skincare steps Jeanne recommends women use to care for their facial skin every day. 
The face cleanser has a gel consistency that turns into an oily wash when used on the skin, and finally has a milky appearance when water is used to wash it off. The face wash has been infused with pink grapefruit extract to give the skin a detox while removing impurities, excess makeup, and finally hydrating it. The face wash is made of 97% natural origin ingredients.
The face cream is an all-purpose moisturizing cream containing rosehip oil and peony extract, formulated to hydrate the skin and plump it using hyaluronic acid. It has a slight pink tint for a glowy finish.
The face oil has a unique blend of fruit oils, mixed with vitamin C. It nourishes the skin barrier and protects it from aggressions.
Get the full set here.