Bonjour mes beautés! 🇫🇷✨
Today, we are diving deep into the world of luxury and sophistication with a brand that epitomizes French elegance – Givenchy Beauty. From the boulevards of Paris to the shelves of your favorite beauty stores, Givenchy has been the go-to choice for timeless glamour for decades.
Whether you're a longtime fan or just discovering this iconic maison, join me as we journey through Givenchy's rich history, uncover their most adored products, and answer some of the most common questions that have come across my desk. Allons-y!
Givenchy Beauty History and Founding
Ah, the illustrious tale of Givenchy! The brand's narrative is deeply intertwined with the history of French fashion and the broader world of luxury.
Hubert de Givenchy, the founder, was born in 1927 in Beauvais, France. With a passion for fabrics and design, he moved to Paris at a young age and studied at the École des Beaux-Arts. It didn't take long for him to leave a mark in the fashion world.
In 1952, Hubert de Givenchy opened his own maison: Givenchy. The House of Givenchy started as a haute couture brand, quickly gaining attention for its modern, ladylike designs. Hubert's creations were nothing short of revolutionary at the time, with his 'separable' – the high-fashion version of mix-and-match clothing – making waves in the fashion community.
The brand's link to beauty and elegance was immortalized when the legendary Audrey Hepburn became both a muse and close friend to Hubert. She not only sported his designs in iconic movies like "Breakfast at Tiffany's" but also embodied the Givenchy spirit in her personal life. Their relationship brought Givenchy into the global spotlight and solidified its place in Hollywood and the international fashion community.
As the fashion house's prestige grew, Givenchy naturally branched out into the realm of beauty in the 1980s. Givenchy Beauty was born out of the brand's desire to complement its sartorial elegance with equally luxurious makeup and fragrances. Their first fragrance, L'Interdit, which was originally designed for Audrey Hepburn, became a sensation and solidified Givenchy's place in the beauty industry.
From there, the beauty arm of Givenchy expanded, offering a range of products from makeup to skincare, all while upholding the brand's dedication to luxury, innovation, and excellence.
While the leadership and creative direction at Givenchy have evolved, with names like Alexander McQueen, John Galliano, and Clare Waight Keller taking the helm at various points, the brand's dedication to luxury and the essence of French beauty has remained consistent.
Givenchy Beauty stands today as a testament to the brand's lasting legacy in the world of luxury, offering products that are not just makeup or fragrances, but a slice of French elegance and history.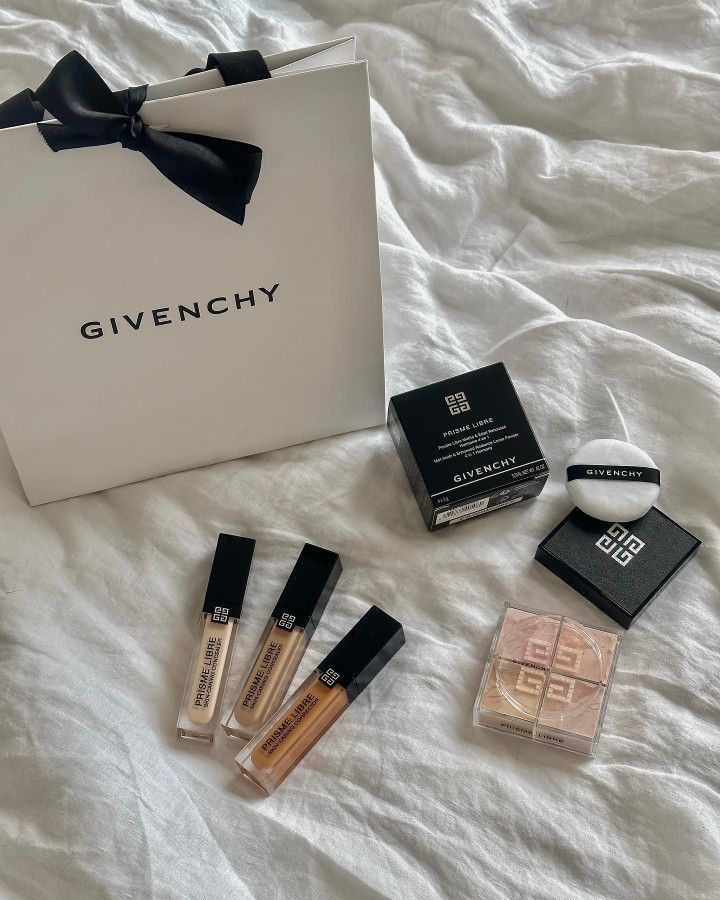 Is Givenchy makeup a good brand?
Givenchy makeup, like many luxury brands, is often praised for its quality, innovation, and packaging.
Here's a breakdown of why many consider Givenchy Beauty to be a good brand:
Givenchy Beauty products are often formulated with high-quality ingredients that prioritize both performance and safety. Their products typically offer good longevity and pigment payoff, especially in their lip products and foundations.
Givenchy isn't just about luxury; they're also about pushing the boundaries of beauty. They've released innovative products over the years, some of which have unique applicators, textures, or finishes that set them apart from other luxury brands.
A big part of luxury beauty is the experience, and Givenchy does not disappoint. Their packaging is typically sleek, elegant, and feels luxurious in the hand.
Givenchy focuses on the sensory aspects of their products, from the way a lipstick glides on to the subtle fragrances infused into their products. This full sensory experience is a hallmark of luxury beauty brands.
Givenchy's history and association with timeless elegance and sophistication give its beauty products a certain cachet. For many, using Givenchy is not just about makeup but also about being part of a longstanding tradition of luxury and elegance.
However, as with any brand, luxury or otherwise, there are a few considerations:
Givenchy Beauty products come with a luxury price tag. While many believe the quality and experience justify the price, it might not fit everyone's budget.
Makeup is deeply personal. What works brilliantly for one person might not be ideal for another. It's always a good idea to sample products or read multiple reviews before making a decision.
While Givenchy products are formulated for a broad audience, it's always crucial to check the ingredients if you have specific sensitivities or allergies.
Popular Givenchy Beauty Products
Givenchy Beauty has unveiled numerous products that have gained popularity and have become favorites among beauty aficionados. Here are some of the most popular Givenchy Beauty products.
Givenchy Prisme Libre Powder
Givenchy's Prisme Libre Loose Powder has achieved cult status in the beauty world for several reasons. Here's why this product, in particular, has garnered so much attention and praise:
One of the unique features of the Prisme Libre is the quad of four complementary shades in each compact. When mixed together, they work to correct and balance the complexion, each shade addressing a different skin concern.
The powder is extremely fine, making it easy to apply and blend seamlessly onto the skin. This ensures that it doesn't settle into fine lines or appear cakey.
Givenchy's famous powder offers a mattifying effect, which is awesome for oily or combination skin types. It helps in controlling shine throughout the day. Additionally, it provides a blurring effect, softening the appearance of pores and imperfections.
Unlike some mattifying powders that can make skin look flat, the Prisme Libre gives a luminous, almost velvety finish, which many users find desirable for a natural, radiant look.
Different quads cater to various skin tones, making it inclusive and versatile. Users can choose the combination that best suits their complexion or desired effect.
The powder is known to set makeup effectively, extending the longevity of the foundation and other face products applied underneath.
Givenchy, as a brand, carries a weight of luxury, elegance, and quality. The popularity of their other products, combined with their brand reputation, amplifies the attention any standout product, like the Prisme Libre Powder, receives. Givenchy's attention to packaging aesthetics means that not only is the product inside top-notch, but the outside is also a beautiful object of desire. The elegant packaging, combined with the innovative design of the quad chambers, adds to the overall luxury experience.
Givenchy Foundations
Givenchy Beauty is well known for their foundations which are regularly used by French makeup artists.
Givenchy's Prisme Libre Skin-Caring Glow Foundation offers a radiant finish while providing skin-nourishing benefits. It seamlessly blends into the skin for medium coverage, masking imperfections without appearing heavy. Infused with skincare ingredients, it ensures long-lasting hydration, making the complexion appear fresh and luminous throughout the day.
The Givenchy Teint Couture Everwear Foundation is a best-selling long-wearing foundation that promises a radiant finish and 24-hour wear. It's praised for its buildable coverage and comfortable wear.
Best-Selling Givenchy Makeup
Givenchy has dozens more best-selling beauty and makeup products. Here are a few of the company's icons:
Le Rouge Lipstick: This is perhaps one of Givenchy's most iconic products. The Le Rouge lipsticks are loved for their creamy texture, rich pigmentation, and luxurious leather-clad packaging.
L'Interdit Fragrance: While this perfume was originally created in the 1950s for Audrey Hepburn, it was reintroduced with a modern twist and has been a popular choice for its bold yet feminine scent.
Prisme Libre Blush: Givenchy's duo blushes are lauded for their fine texture and blendability, allowing users to mix and match shades for a customized color.
Noir Couture Mascara: With its unique three-ball brush, this mascara promises volume, length, and curl. It's also known for its nourishing formula, enriched with lash-loving ingredients.
Givenchy Mister Brow Filler: A tinted brow filler that provides both color and volume, helping to give brows a fuller, more defined appearance.
Givenchy Rouge Interdit Hydrating Lip Balm: Known for its subtle tint and medium color payoff, this lip balm also claims to be a color enhancer, adapting to one's unique pH to give a personalized shade.
FAQ
Is Givenchy foundation non-comedogenic?
Givenchy, like many high-end beauty brands, formulates its products to be suitable for a wide range of skin types, and they often prioritize skin health in their formulations. However, whether a specific Givenchy foundation is non-comedogenic (meaning it won't clog pores) isn't always explicitly stated on the product.
If you're concerned about comedogenic ingredients or have acne-prone skin, it's always a good idea to check the ingredient list of the specific foundation you're interested in. Additionally, reading reviews, consulting with a dermatologist, or conducting a patch test can also help determine if a product is suitable for your skin type.
Is Givenchy Beauty cruelty-free?
Givenchy Beauty is not certified as a cruelty-free brand. While they might not test their products on animals in countries where it's not required by law, they do sell their products in markets like mainland China, where animal testing is mandated for imported cosmetics.
I hope you found this Givenchy beauty review helpful! Let me know your questions in the comments below!